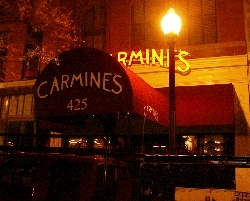 "Awnings get noticed. They invite people to enjoy our great food and wine, and excellent service. When you're ready to enjoy an Italian American feast with family and friends, awnings assure you know where to find us."
Roseville, MN (PRWEB) February 24, 2011
Buoyed by a positive outlook for sales and the economy, 47 percent of restaurant operators at the nation's 945,000 locations plan to make capital investments for equipment, expansion and remodeling over the next six months, according to the National Restaurant Association. This bodes well for restaurants, as well as the multitude of suppliers to that industry.
In recent years, the economic climate prompted many restaurant owners to delay investment in facilities updates, enhancement, or expansion. But renewed optimism is bringing these projects back to the front burner. Many restaurant owners who sat idle in recent years are cooking up renovations for 2011, including signage, building exterior design, landscaping and interior space.
Tim Robinson, Vice President of Sales and Operations at Durasol Awnings in Middlebury, Vermont, is seeing increased activity in all aspects of his commercial awning business, from clients who are recovering and updating existing awnings, replacing old awnings with new, and adding awnings to buildings that previously lacked them. Reports Robinson, "2010 definitely improved. We're projecting further improvement in 2011."
"In the past year we've seen a lot of emphasis on restaurant refresh and rebranding, which is fueling our optimism for the year ahead," continues Robinson. For operators who invest in updates, "A typical restaurant will realize an 8- to 11-percent increase in period sales following a refresh. To a restaurant operator with multiple locations, that's huge."
"Durasol is anticipating 10 percent growth this year, primarily based on the improved economic climate, and the increasing use of awnings in retail branding and façade improvements."
PROMOTIONAL VALUE
Businesses have long understood the marketing value of awnings. "Awnings are a cost-effective way for retail locations to enhance visibility and awareness," says Michelle Sahlin, Managing Director of the Professional Awning Manufacturers Association. "Awning materials are graphic-receptive, enabling businesses to incorporate brand identity and promotional messaging, while adding texture, dimension and visual appeal that draw customers to your site."
For many restaurants, awnings become an integral part of their unique brand identities. Consider the distinct red and white striped awnings that make T.G.I. Friday's® locations recognizable worldwide; or the warm, inviting green and terra cotta striped awnings that are part of the Applebee's® brand experience.
It's not just the large chains that leverage the benefits of awnings. Awnings help generate traffic, even for single-site restaurants.
Artie Cutler launched Carmine's on the Upper West Side of Manhattan, in 1990, and has since expanded to include locations in the New York City Theater District, Atlantic City, New Jersey, Nassau Bahamas, and Washington DC. "At our urban locations, thousands pass by Carmine's every day," says Cutler. "Awnings get noticed. They invite people to enjoy our great food and wine, and excellent service. When you're ready to enjoy an Italian American feast with family and friends, awnings assure you know where to find us."
FUNCTIONAL BENEFITS
While branding and visibility tend to drive retail businesses to invest in awnings, Sahlin points out there are functional benefits as well. "By reducing solar gain through windows, awnings have been shown to reduce cooling expenses by 25 percent or more. Consider the cumulative savings that represents for a restaurant operator with 10 locations, or 50, or 100…"
Awnings have also proven a cost effective way for restaurants to expand seating capacity and generate additional revenue. Case in point: The Andiamo Restaurant in Novi, Michigan. When it came to creating more revenue-producing dining space, Owner Dan Linnen discovered, "The payback on the construction of the awning for us was really a short time – it was four weeks. So, from a cost-effective standpoint, from a timing standpoint, and from a cosmetic standpoint, we found that the awnings were a much better application for our use in a commercial environment than that of traditional construction."
For more information on the commercial benefits of awnings, visit http://www.awninginfo.com.
###