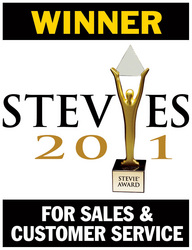 The true measure of our success comes in the satisfaction of our customers
Elkhorn, NE (PRWEB) February 23, 2011
Fat Brain Toys was presented with a Stevie® Award in the e-Commerce category in the fifth annual Stevie Awards for Sales & Customer Service. More than 800 entries from organizations of all sizes and in virtually every industry were submitted to this year's competition.
"Being recognized by your industry peers is extremely gratifying," states Mark Carson, President & Co-Founder of Fat Brain Toys. "But for us, the true measure of our success comes in the satisfaction of our customers."
While multi-channel retailer Fat Brain Toys is widely regarded as a technology innovator in the toy industry, their customer service can largely be described as "old school".
"When it comes to interacting with our customers, we don't rely upon many of the technological 'crutches' employed at larger companies," says Carson. "Before or after the sale, when you call our 800 number, it will immediately be answered by one of our experienced customer care representatives right here in our home office."
Fat Brain Toys consistently ranks as one of the top online retailers for customer service, receiving an "Elite" rating from ResellerRatings.com and earning the 2008 Integrity Award from the Better Business Bureau.
"This year's class of honorees illustrates that no matter your organization's size, industry, budget, or location, it's possible to excel at the two most important functions in business: acquiring and keeping customers," said Michael Gallagher, president of the Stevie Awards.
About Fat Brain Toys
Begun as a literal garage startup in 2002, husband and wife team Mark & Karen Carson have grown their company into one of the largest independent retailers of specialty toys in the country. Recognized as one of the fastest growing e-retailers by Internet Retailer magazine, Fat Brain Toys credits their rapid growth to offering quality toys coupled with truly remarkable customer service. You can see their complete selection of specialty toys at http://www.fatbraintoys.com
About The Stevie Awards
Stevie Awards are conferred in four programs: The American Business Awards, The International Business Awards, the Stevie Awards for Women in Business, and the Stevie Awards for Sales & Customer Service.  Honoring organizations of all types and sizes and the people behind them, the Stevies recognize outstanding performances in the workplace worldwide.  Learn more about the Stevie Awards at http://www.stevieawards.com.
Sponsors of the 5th annual Stevie Awards for Sales & Customer Service include American Support, the Business TalkRadio Network, Competence Call Center, Infogroup, the Sales Management Association, and ValueSelling Associates.
###