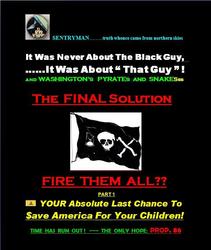 PROP. 86....YOUR Absolute Last Chance To $ave America For Your Children!....
Gun Barrel City, TX (PRWEB) February 24, 2011
It Was Never About The Black Guy, It Was About "That Guy"! And Washington's Pyrates and Snakesss. The Final Solution – Fire Them All?? Time Has Run Out! The Only Hope: Prop. 86 by Sentryman, strives to voice this author's stance on a future Proposition (86) as the citizen's stake-in-hand to contrary government policies, to liberate the taxpayers and unleash the American economy. "I strike directly at the heart of any problem, not nibble around the edges," he says. "Americans want to solve problems permanently the first time around and then we'll move on to other windmills. Not to continually forfeit good money after bad."
Sentryman says he seeks to take action thru his book by challenging the reader/voter, and especially captive students when addressing vital issues for the future of the United States; "jar the reader with a slap upside the head: wake-up, pay attention, start thinking about current issues and connect the dots for yourself! Our flagrant government isn't doing even a modicum of their appointed duties today, from passing unread bills, to sharing the trough before hasty vacation recesses - only inflating legislators' superegos. Old fashioned "sleeves rolled-up" honest action is all we need," according to Sentryman.
"Not cloistered in endless committees, executive panels and sycophantic commissions all taking US citizens for supplicate fools while "brilliant" attorneys endlessly charge the American taxpayer for their own calculated inefficiency and malaise. If paid by the "bill" on its individual merit and salaried by performance as teachers should be, instead of the Taxpayers always taking it on the chin and pocketbook who pay the Congress's endless tab for pork-pie Dagwood sandwiches just days before the Christmas vacation "extortion scam" each year, then how speedily the congressional bottlenecks would clear and efficiently the people's business would be conducted and accomplished! Shouldn't be any debate here. Don't value the Constitution, don't swear to uphold it. Become a lobbyist."
"If today's watchword is "compromise" with its back-scratch deal making no matter who's in power, freedom is compromised and reduced to barter in the square, each side are but haggling merchants, we're all losers and poorer for it.
We need Statesmen today to "deal in ideals", and to convince their colleagues to rise above "self" for the good of our nation to benefit all, but not at the expense of the few.
Unchain liberty; freedom, the engine of free enterprise that raises all boats."
Sentryman's intent is to offer simple direct solutions through citizen action for a multitude of problems that infested the 20th century and infecting the 21st. "Maybe my great-grandchildren will know I stood up for something long ago with the last two cents in my pocket," he says, "because change was all I had left, but still tried to make a difference…"
This gentle man genuinely thinks that his unconventional tactics can provide practical solutions for a stymied citizenry to employ in order to wrestle back the "Republic" from the death grip of any renegade Congress, and jolt the country back on course to future prosperity and its former greatness no matter which side of the isle you may otherwise support in better times.
It Was Never About The Black Guy, It Was About "That Guy"! And Washington's Pyrates and Snakesss. The Final Solution – Fire Them All?? is available for sale online in paper Workbook and by Kindle at Amazon.com and other channels.
http://www.amazon.com/s/ref=nb_sb_noss?url=search-alias%3Daps&field-keywords=Sentryman%2C++fire+them+all%3F%3F
About the Author
Sentryman, self-employed 45+ years, owned and operated four small businesses all but destroyed by the effects of the last 3 years.
"Final Solution – Fire Them All??" is his first published book.
MEDIA CONTACT - Sentryman Email: sentryman2010(at)aol(dot)com
###