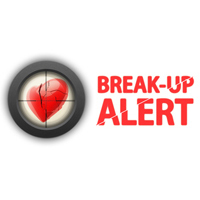 This astounding, utterly utilitarian piece of technology allows you to be instantly informed when someone you like finally becomes available. - CNET News
Las Vegas, NV (PRWEB) February 23, 2011
Since launching on Facebook less than 3 days ago, the controversial app "Break-Up Alert" has gone viral and collected over 700,000 users in its first 48 hours. The app created international Internet buzz after popular technology blog, Tech Cruch, first broke the story about the new app on its website Monday.
Since then, the app has been featured on media outlets around the United States and as far away as India and China.
The New York Daily News reported Monday that the app had amassed over 100,000 users in its first 24 hours. As buzz on the Internet quickly spread through social networks Twitter and Facebook, users signed up for the new app by the thousands. The app was the subject of talk radio shows around the nation as well as the popular Comedy Central television show, Tosh.0, which focuses on Internet trends.
The app has ignited some controversy among privacy advocates who fear that it further invades Facebook users' privacy. Although, the makers of the app, Thought Division, a Las Vegas based production company and development firm, were quick to point out that the app simply consolidates information already readily available to a Facebook user's friends.
Break-Up Alert is a new Facebook application that allows users to monitor the relationship statuses of their friends.
The app allows users to create a "watch list" of the girls or guys a user is interested in and sends the user a private email notification if any of their relationship statuses change.
The app is available for free at http://www.breakupalert.com.
Break-Up Alert was created by ThoughtDivision.com, a Las Vegas based production company and creative agency.
###