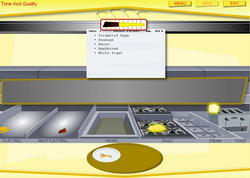 The Shootout was a fabulous way to see all the innovative work being done by our industry colleagues.
Saint Paul, MN (PRWEB) February 23, 2011
Allen Interactions, an internationally acclaimed custom learning design, development and strategic consulting firm won the Learning Games Interactivity Shootout held at Training 2011 Conference & Expo, February 7-9 in San Diego.
The e-learning gaming solution, demonstrated in the shootout by Lisa Stortz, strategic relationship manager for Allen Interactions, was created for cooks to practice food scheduling and production at a major restaurant chain. The Time & Quality game demoed provides a challenging context for the learners (fry cooks at the restaurant) – an interactive and engaging virtual kitchen for them to practice food production, juggling the scheduling and production of food orders coming in. The learners (fry cooks) are provided feedback on the timing and quality of the food orders.
"The Shootout was a fabulous way to see all the innovative work being done by our industry colleagues," stated Lisa Stortz. "We all were fortunate enough to have just heard one of the keynotes, J. Leighton Read (author of Total Engagement), who shared highlights of his book including Ten Game Features to Guide Real Work. Our Time & Quality e-learning solution embodied eight of the 10! Most importantly our game was a nice example of using multi-million dollar ideas to producing a great engaging game with a reasonable budget."
Click Here to View Course Demo
About The Interactivity Shootouts at Training 2011
The Interactivity Shootouts held at Training 2011 Conference & Expo consisted of three categories: Role-Play Simulations, Discovery Learning, and Learning Games. Conference attendees watched the teams race the clock and show off the best role-play simulations, discovery exercises, and serious learning games in the industry. Audience members rated each presentation with applause declaring the winner of each category. The Shootouts were refereed by Bryan Chapman, chief learning strategist, Chapman Alliance and inventor of the first commercial EPSS system for instructional designers, called Designer's Edge.
About Training Magazine
Training magazine is a 46-year-old professional development magazine that advocates training and workforce development as a business tool. The magazine delves into management issues such as leadership and succession planning, HR issues such as recruitment and retention, and training issues such as learning theory, on-the-job skills assessments and aligning core workforce competencies to enhance the bottom line impact of training and development programs. Written for training, human resources and business management professionals in all industries, Training combines a paid circulation with qualified, controlled recipients to deliver the strongest circulation in the market.
Training magazine is currently published by The Lakewood Media Group, led by managing partners Mike Murrell and Bryan Powell based in Minneapolis. Joining them as a managing partner is Philip Jones, a former editor of Training magazine who launched the brand's highly successful newsletters – now published online – as well as several leading industry events including the annual Training Conference & Expo. All three managing partners are former Lakewood vice presidents with Powell functioning in the role of Training's business manager for a number of years.
About Allen Interactions
With more than fifteen years of experience, Allen Interactions has an unrivaled track record in delivering dynamic enterprise custom learning solutions that serve employees, partners and customers at many of the world's leading companies. At Allen Interactions, we design and develop interactive, performance-changing custom e-learning and blended learning for leading organizations like Apple, Essilor, HSBC and Motorola. Blending best practices with technology, content, and service, Allen Interactions assists these companies that need to execute business change, drive and improve performance, and improve people effectiveness. To learn more visit: http://www.alleninteractions.com.
###