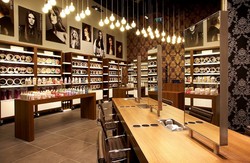 With fewer opportunities and decreasing margins is "sticking to the knitting" enough?
(PRWeb UK) February 23, 2011
Basic survival for shopfitters is all about 4 things; delivering on time, delivering within budget, ensuring the high level of quality demanded by retailers and of course... being competitive on price. These key success factors almost go without saying as they are undoubtedly the very least a shopfitter must do. Those that have survived the recession are, on the whole, getting this right.
But with fewer opportunities and decreasing margins, is "sticking to the knitting" enough? Railston decided not and aggressively pursued a number of initiatives over the last 2 years that resulted in 2010 being a year of record turnover, up from £18.8million in 2009 to £26million.
Railston believe their success was a combination of:
Retaining existing clients - priority number 1 and achieved through evaluating service levels, auditing internal processes and assessing training needs. The result is improved operating efficiency and increasing client satisfaction
Targeted new business development - no more scatter-gun, all marketing is targeted at the right people in the right organisations, which is cost effective and produces better results
Extending services - Railston has deliberately targeted new types of shopfitting projects; specifically shop-in-shop and concessions, partnering design agencies for boutique projects and commercial office interiors
Exploiting International opportunities - overseas procurement has been expanded to offer clients the most competitive prices and Railston has successfully competed for more overseas projects
Embracing the digital age - the website is no longer an online brochure, it is now an interactive tool which is updated in-house on a daily basis. Visitors to the site can comment on content, follow the blog as well as access YouTube, LinkedIn and Facebook, and it looks great too!
Refreshing the brand - with a view to looking good online, the 26-year old Railston brand has been given a make-over with a 3-D logo and more informal font
Railston is grateful for the hard work and commitment of staff and the loyalty from clients, without which there would be no success. Railston intends to make 2011 another year of innovation and growth.
###