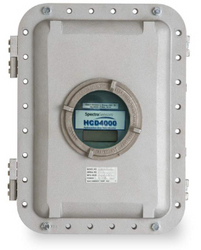 Houston, TX (PRWEB) February 24, 2011
SpectraSensors, a global leader in advanced gas measurement technologies for the natural gas and chemical processing industries, today announced the release HCD4000™ Hydrocarbon Dewpoint Analyzer. The HCD4000™ is a new product addressing the growing need of natural gas processers, pipeline operators, as well as natural gas users to measure the dewpoint of natural gas, a key indicator of natural gas quality.
This new on-line analyzer, based on ground-breaking CEIRS™ technology, uses an IR beam that probes the surface of an optical crystal to determine the dewpoint of natural gas. Because it is a spectroscopic technique, it is also able to determine the nature of the liquid condensate. CEIRS™ technology is inherently superior to the existing methods as it provides a highly accurate, unambiguous, and operator-independent measurement of the hydrocarbon dewpoint. It is immune to most contaminations and requires no maintenance under normal operation.
"This product further expands our offering for the natural gas industry, making SpectraSensors a comprehensive vendor of natural gas analysis instrumentation", said George Balogh, CEO of SpectraSensors. "HCD4000™ was developed at the request of our leading customers to have an accurate and reliable tool for measuring the hydrocarbon dewpoint of their gas. It has been in extensive testing at some of our key customer locations during the past year. Like all of our products, it is designed to be very reliable and virtually maintenance free."
HC4000™ is available for immediate shipment in the North American market. Introduction in other geographic markets will follow at a later date.
About SpectraSensors, Inc.
SpectraSensors is a leading manufacturer of optically based gas analyzers and moisture analyzers for analytical process markets. SpectraSensors uses Tunable Diode Lasers Absorption Spectroscopy (TDLAS) in an array of products such as Ambient Air Monitoring Analyzers, Moisture Analyzers(Hygrometers) and Gas Analyzers for Natural Gas Pipelines and Processors, Petrochemical Refineries and Chemical Companies.
SpectraSensors Gas Analyzers measure: Moisture (H2O), Carbon Dioxide (CO2), Hydrogen Sulfide (H2S), Oxygen (O2), Ammonia (NH3), Hydrocarbon Dewpoint and more.
###