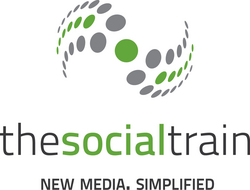 "Companies are looking for answers from their upper management teams or advertising agencies, when the real power lies in teaching and educating existing staff on the nuts and bolts of new-media." says Schwalb, The Social Train's CEO.
Atlanta, GA (PRWEB) February 25, 2011
Industry veterans Samuel E. Schwalb and Julie Fulcher have officially launched The Social Train, aimed at helping businesses better understand social media and mobile applications. The Social Train will conduct on-site training and consulting to marketing and sales, HR, customer service and operations departments, so companies can learn how to use new-media most effectively going forward. Businesses of all sizes are struggling to grasp the speed of emerging technologies and The Social Train will develop simplified and customized sessions to help businesses gain clarity.
"It is unrealistic and inefficient for a company to gain maximum benefit from buying a book or attending a conference on mobile or social media. The Social Train provides regularly scheduled on-site training for company management and employees, teaching the latest social and mobile technologies for maximum competitive advantage." More information on specific sessions available can be found at http://www.thesocialtrain.com under 'The Results' or contact info(at)thesocialtrain(dot)com
Contact Information:
The Social Train
678-948-TRAIN or info(at)thesocialtrain(dot)com
http://www.thesocialtrain.com
Julie Fulcher, VP of Marketing and Business Development
The Social Train is a global new-media consulting company. Its unique focus is training businesses on the latest new-media platforms including social media and mobile devices. The mission is to educate, simplify, and make it easier for businesses to use existing technology for improved profitability.
info(at)thesocialtrain(dot)com
###