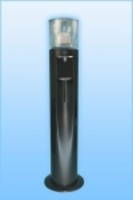 Choose water as healthy hydration when outside the home instead of soft sugary drinks which can result in excess calories.
(PRWeb UK) February 28, 2011
SpringWise's new bottled water delivery service helps people fight obesity by making it easier to choose water rather than soft sugary drinks to provide healthy hydration without the extra calories.
Outside the home, it's often easy and tempting for children and adults to choose soft sugary drinks to rehydrate. Two recent medical reports highlight the links between excess calories, obesity and increased health risks.
According to the UK NHS Information Centre, the latest figures indicate that 24% of men and 25% of women in England were classified as obese. The link between obesity and an increased link of many serious diseases and early mortality is well documented. In the US the problem is even worse with two thirds of US adults are either overweight or obese.
A recent US report highlighted the impact on obesity from eating outside the home and drinking sweetened beverages rather than water. According to the 1999 - 2004 (US) National Health & Nutrition Examination Survey the average American consumed 22.5 teaspoons of added sugar per day with nearly half attributed to soft drinks and fruit drinks.
Although, soft drinks like colas and fruit juices can be consumed in moderation, it's clear that water is far preferable if you want healthy hydration without the problem of excessive calories. When out of the home, soft sugary drinks are readily available and can be too tempting especially to children and younger adults.
Tips for healthy hydration outside the home:
1) Whenever possible, choose water instead of a soft sugary drink
2) Check if your school, workplace or leisure centre etc provides a water dispenser or bottled water. If they don't, suggest they get a water dispenser or provide bottled water to provide healthy hydration.
3) Alternatively, carry a small bottle of water with you
SpringWise bottled water delivery service provides:
1) A range of hot and cold or cool and cold water dispensers for home and the workplace from as little as £59.99 + VAT
2) 15 litre bottles of SpringWise pure English spring water
3) Small bottles of Princes Gate pure Welsh spring water (available in 500ml and 1.5 litre bottles)
n.b. delivery service available for all UK mainland addresses
Sources:
NHS Information Centre: Statistics on obesity, physical activity and diet: England 2010
US Economic Research Report July 2010
###