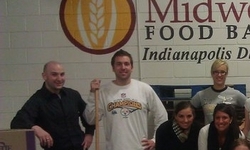 it felt great to be able to help them with their mission
Indianapolis, IN (PRWEB) February 28, 2011
TMG Solutions, Inc., a marketing firm based out of Indianapolis, recently volunteered their time at the Midwest Food Bank, an organization whose mission is to gather large food donations from nationwide corporations and distribute them to social service organizations and national disaster sites at no charge. Volunteers are invaluable to the organization; their giving of time is needed to run the day-to-day operations of the Midwest Food Bank.
The team at TMG Solutions, Inc. spent the evening cleaning the kitchen, packing food, cleaning the warehouse, and helping with any additional cleaning the facility needed.
"Our office really enjoyed donating our time," said TMG Solutions President Stephen Kordella. "They are a faith-based organization that relies 100 percent on volunteers, so it felt great to be able to help them with their mission."
The food bank hits close to home to TMG Solutions since one team member's grandfather volunteers at the organization regularly. After researching the organization, TMG Solutions determined that the food bank needed their help. Their goal was to lighten the load of an organization that provides support for various communities in various situations.
Follow us on Facebook and Twitter!
About TMG Solutions, Inc.
TMG is a premier outsourced sales and marketing firm in the Indianapolis area. A privately owned and operated firm, TMG is dedicated to providing opportunity to Fortune 500 clients and team members. TMG Solutions' track record of results for their clients include generating new business, increasing customer retention, and decreasing expenses, which has enabled them to further their opportunities with various industry leaders.
For more information, please visit http://www.tmgindy.com/.
# # #