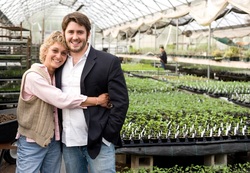 It all just clicked and we thought we could pull together a great event that would be meaningful for the cause and that would offer a unique dining opportunity for those in attendance
Boston, MA (PRWEB) February 24, 2011
On the evening of Thursday, February 3rd, 2011, Jodie Gilson, the owner of J. Gilson Greenhouses, a wholesale grower of herbs and perennials in Groton, Massachusetts, lost all of her greenhouses, and thus her livelihood, under the crushing weight of the New England snow. Gilson's insurance would not cover the loss, and to add insult to injury, the approaching Mother's Day holiday is the single biggest window for success during the calendar year in the wholesale plant sector, Gilson's primary market.
When word of the disaster reached Gilson's son, award-winning Chef and Restaurateur Will Gilson, he immediately reached out to his friends and peers within the Boston restaurant community.
Within hours of ending their shifts, restaurateurs, chefs and purveyors responded to Chef Gilson offering their support to the effort. "The response was overwhelming," said Chef Gilson. "So many great folks offering whatever I needed towards an effort that hadn't even been conceived yet. It's truly humbling to be a part of this generous community."
One of those that reached out in response was the Food and Wine Program Manager of the Boston Center for Adult Education, Brehon Garcia-Dale. "As soon as we learned about the benefit we knew it was something we wanted to become involved with and immediately offered our space for the event. Our facility here is large enough to make an impact, we have state-of-the-art kitchens for the chefs to use, and it just made sense. And more importantly, it's what we do here. The Boston restaurant community is part of the DNA that makes up our program, and if we can help, we're going to," said Garcia-Dale.
Chef Gilson has been producing pop up restaurants for the last several months and thought the BCAE's offer of event space made the one night 'pop up restaurant' concept the perfect vehicle to help create the benefit.
"It all just clicked and we thought we could pull together a great event that would be meaningful for the cause and that would offer a unique dining opportunity for those in attendance," said Chef Gilson.
The event, "Mother's Day in March" will be held on Saturday, March 5th at 7:00PM at the Boston Center for Adult Education located at 122 Arlington Street in Boston's South End. Some of the area's finest chefs will come together for the one-night-only pop up restaurant creating a family style menu featuring their Mother's favorite dishes.
Tickets for the evening are as follows:
General Admission: $100.00 (Includes wine and dinner).
VIP Admission: $150.00 (Includes wine, dinner and VIP cocktail reception with Jackson Cannon and LUPEC at 6:30PM featuring Island Creek Oysters).
Chef's Table Admission: $200.00 (Includes premium seating, wine, dinner and VIP cocktail reception with Jackson Cannon and LUPEC at 6:30PM featuring Island Creek Oysters).
To purchase tickets please visit: http://office.bcae.org/MothersDay.html
*All proceeds will go to help rebuild J. Gilson Greenhouses.
*Read more about this effort and donate directly at http://willgilson.tumblr.com/
Participating Chefs/Restaurants/Vendors:
Louis DiBiccari, Sel de la Terre
Jamie Bissonnette, Toro, Coppa
Dante de Magistris, Dante, Il Casale
Matt Jennings, Farmstead, La Laiterie
Colin Lynch, Menton
Suzi Maitland, Trina's Starlight Lounge
Ed Doyle, Real Food Consulting
Jay Silva, Bambara
Andy Husbands, Tremont 647
Mary Dumond, Harvest
Will Gilson, Garden at the Cellar/Eat
Joanne Chang, Flour, Myers + Chang
Ian Grossman, Russell House Tavern
Jackson Cannon, Eastern Standard
Christopher Myers, Myers + Chang
Joy Richard, Franklin Cafe
Aaron Cohen, Eat
MS Walker
Island Creek Oysters
Event Info: For tickets please visit http://office.bcae.org/MothersDay.html or call 617-267-4430!
Location: Boston Center for Adult Education, 122 Arlington Street, Boston, MA 02116.
# # #