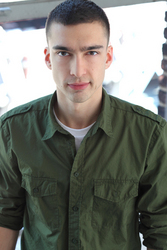 "I love, love this song," wrote one fan on Facebook "It has an excellent club/dance beat that immediately appeals to the listener. It is so easy to get into and listen to. This is going to be a hit."
Portland, OR (PRWEB) February 23, 2011
Fans say "Machine," a new electro/hip-hop song from Travis Royce of Portland, Ore., is hard to get out of their heads. It will be even harder this weekend, after Portland clubs begin playing the song. More than a dozen DJs will include "Machine" in their rotations.
"'Machine' from Travis Royce is a banger," says "DJ Dan" Kinto of The Fix in Portland. "A major club dance hit from the local Portland artist. You can definitely see the hip- hop origins in his lyrics. The R & B vocals and upbeat vibe are crowd movers. Definitely looking forward to more work from this artist in the club scene."
To listen, click here:
http://www.reverbnation.com/play_now/7305832
Royce, 22, wrote the lyrics, composed the music, produced the song, and raps in "Machine." Ryan Elizabeth, a University of Oregon student, is the featured singer.
A free download of the song is available here:
http://www.reverbnation.com/artist/exclusives/travisroyce
Another song is coming from Royce next week. That will be followed by a music video featuring "Machine," and more songs and videos.
"I love, love this song," wrote one fan on Facebook after Royce first posted the song last week. "It has an excellent club/dance beat that immediately appeals to the listener. It is so easy to get into and listen to. This is going to be a hit. I want to hear more!"
Wrote another fan, "His track 'Machine' (either the radio or club mix) will get you hooked, wanting more."
Visit Royce at http://www.tmcroyce.com
For more information, photos of Royce and Elizabeth, or to arrange interviews, contact Lisa Cohn, a member of Royce's promotional team, at 503 577 0504, or email teeroycetele(at)gmail(dot)com
###