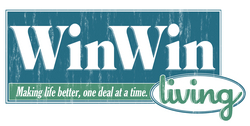 WinWin Living features deals for people who want to spend wisely, get the most out of their city and still be able to give back
Los Angeles (PRWEB) February 24, 2011
Consumers in Los Angeles who care about their families, their pets and their planet are now just a click away from the best of what the city has to offer. Launched this week, WinWinLiving.com, a group buying site, provides dramatically discounted deals on everything from eco-friendly salons and services to family-focused entertainment and events, with 10 percent of WinWin Living's proceeds donated to non-profit organizations in the community.
"WinWin Living features deals for people who want to spend wisely, get the most out of their city and still be able to give back," said Will Maurer, Co-Founder of WinWin Living. "Because we donate a portion of our proceeds from every transaction to a local charity, consumers are able to spend less, while actually giving more – a true win-win situation."
WinWin Living sends its subscriber list exclusive promotions utilizing Greenopia, a "green" directory that ranks businesses' eco-friendly practices. Consumers have between 24 to 72 hours to purchase the discount and can redeem their savings up to a year afterwards. Upon checkout, each purchaser has the opportunity to choose from several WinWin Living featured charities to receive the proceeds from their deal – at no additional cost.
In addition to providing exclusive promotions, WinWin Living offers informative and entertaining resources, including: Won Over In L.A, a lifestyle blog that serves as a city guide, WinWin Drive-In, educational and promotional videos for businesses and non-profits in the area, and WinWin Giving, which offers descriptions of its featured charities – including the Elizabeth Glaser Pediatric AIDS Foundation, Heal the Bay and spcaLA – so customers can learn more about the organizations benefiting from their purchase.
About Greenopia
Greenopia is a trusted resource for consumers in helping them make informed, researched-based choices when it comes to living a greener and healthier life. Its green business directory has more than 25,000 expert-qualified listings in more than 54 categories and is based on extensive research. Many listings of green retailers, services and organizations are included on WinWin Living, because they meet Greenopia's strict standards of eco-friendliness.
# # #