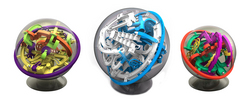 The Perplexus collection provides mind-challenging fun for the entire family, parents and kids alike
Ottawa, ON (PRWEB) February 24, 2011
Perplexus, the bendy, trendy, can't put-it-down 3D maze game from PlaSmart Inc., has been named one of the top 15 smartest toys by Time Magazine from more than 100,000 new toys showcased at this year's 2011 New York Toy Fair. The announcement can be found here.
This is the latest award for the break-out hit Perplexus which launched in 2010 and was immediately recognized for its innovative, mind-challenging play by the most recognized and respected top toy awards including the American Specialty Toy Retailing Association (ASTRA), the Canadian Toy Testing Council (CTTC), The Toy Insider, NAPPA and Parents Magazine.
Time Magazine recognized the mind-challenging fun of the original Perplexus launched last year as well as Plasmart's new Perplexus Rookie for beginners and Perplexus Epic for experts, both available at retailers this spring. The Perplexus Original, which is still available, challenges players with multiple paths and 100 barriers to manoeuvre through in a 3-dimensional maze that will confound and excite even the most experienced maze masters. The new Perplexus Epic adds to the excitement with 125 barriers to overcome. The new Perplexus Rookie, which is for younger or less experienced maze experts, is still an incredible challenge with multiple paths and 74 barriers to conquer.
"The Perplexus collection provides mind-challenging fun for the entire family, parents and kids alike," says Timothy Kimber, President of PlaSmart Inc. "That's what Plasmart strives to deliver - fun, innovative and engaging products that bring families together. We are thrilled that Perplexus has been selected as a new stand-out toy from among the best and brightest in the toy industry, and we look forward to another fun year of mind-boggling maze excitement in 2011.
Perplexus is a 3-dimensional maze game where players must maneuver a small marble around challenging barriers inside a large-sized transparent sphere. Unlike traditional flat-surface mazes that are composed of one path, Perplexus challenges players like no maze has before with numerous paths to choose from and dozens of barriers to overcome offering hours of entertainment and fun. Players select which track they would like to attempt and then must work against gravity and carefully shift, flip, and twist the sphere to guide the marble through the challenging maze of obstacles and barriers. Players can race each other or the clock. In addition to being an entertaining game, Perplexus is a great tool for cognitive development, encouraging children to exercise their problem-solving, motor and dexterity skills, as well as improving their hand-eye coordination. Perplexus retails for $19.99 and is available at mass market and specialty stores and is for ages 6 to 106. For more information visit http://www.perplexus.net.
About PlaSmart Inc.
Plasmart is a global toy distributor that specializes in providing fun, innovative and engaging products that bring families together. Plasmart's products include PlasmaCar, the mechanical marvel powered by the cleanest and most inexhaustible energy source - kid power; PlaySnapz, flexible, plastic construction pieces that come in a variety of shapes, sizes and colors; Yummy Dough the edible molding compound; Doodle Décor, fun stickers that feature large, colorful graphics designed to inspire creativity; Perplexus the 3-dimensional maze game; and the all-new Orbo 3D cube puzzle. Plasmart's products are available on five continents and in more than 20 countries. For more information visit http://www.plasmarttoys.com.
###