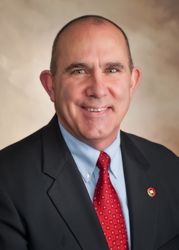 "We are excited that Steve Feld will be joining us," Newberry College President Dr. V. Scott Koerwer said. "He is a top level higher education financial executive who will bring tremendous value and experience to the college."
Newberry, SC (PRWEB) February 24, 2011
Newberry College today announced that it has appointed Dr. Steven Feld as Chief Financial Officer (CFO) and Executive Vice President for Administrative Affairs.
In the new position, Feld will be responsible for overseeing all business processes at the college, including financial operations, purchasing, information technology and human resources. The appointment completes a national search for the new position.
His experience in higher education spans both public and private institutions including the University of Pennsylvania and the University of Maryland where he served as Executive Director of Executive Education and Executive Director of Global Ventures for the Smith School of Business. He taught for Penn's Graduate School of Education and in executive programs for such companies as Lockheed Martin and Black & Decker. Most recently, he was Chief Operating Officer for the New York firm CEO Connection.
"We are excited that Steve Feld will be joining us," Newberry College President Dr. V. Scott Koerwer said. "He is a top level higher education financial executive who will bring tremendous value and experience to the college."
At Newberry, Feld plans to focus on building and strengthening the overall financial health of the college by working closely with all of the college's key constituents. Ultimately, his goals are to increase school resources, invest in the campus and enhance the student experience.
"This is a tremendous opportunity to join the Newberry College community at a time when the school has a strong momentum to move forward in new and innovative ways," he said. "Now, we need to provide and effectively manage our financial resources so we can give our students the best educational experience possible and prepare them for making a difference in the world."
Feld holds a doctorate in Higher Education Management from the University of Pennsylvania's Graduate School of Education, an MBA in Finance from the Wharton School of Business, and an MS in Mechanical Engineering from the University of New Mexico's Farris School of Engineering.
About Newberry College
A private, residential, co-educational, college with a diverse student population, Newberry College offers baccalaureate degrees in 24 majors, 31 minors, and 27 areas of concentration. Founded in 1856 by the Lutheran Church, the college is accredited by The Southern Association of Colleges and Schools, the National Council for Accreditation of Teacher Education, and the National Association of Schools of Music. Core courses emphasize liberal arts, sciences, and technology. The college has a radio and television station, and offers 15 NCAA Division II sports. For more information, visit http://www.newberry.edu.
###