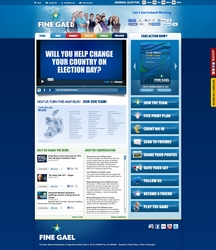 Dublin, Ireland (PRWEB) February 23, 2011
In the last week of one of the biggest elections in Irish history, the Fine Gael Party, the largest party in opposition and also in the local government, used the internet as an aggressive tactic to face some of the challenges involved in the 2011 Irish General Election.
Fine Gael's "digital advantage" has helped their campaign as they top the polls in the days leading to Election Day, on February 25th.
Irish internet penetration is at 65% and was not a significant factor in the election of 2007, but the 2009 Lisbon Treaty referendum illustrated that a well-executed online campaign combined with traditional efforts can be a significant marketing tool when campaigning in an election.
The Party knew that if they wanted a successful digital campaign, they would need the right team on the ground to achieve that. Fine Gael was determined to maximize the potential of social networking in this General Election given that in previous campaigns not all members of the Irish Parliament were using social networking sites as a communication tool. Traditional media is still the most popular communications method in Ireland, but it was clear that new ways to reach the electorate could give candidates an extra advantage.
One out of two Irish people online are on Facebook; that's significant when Bebo, AOL's social networking site, used to dominate just a few years ago in the social networking world in Ireland. Fine Gael knew that social networking was an opportunity to communicate directly with the electorate.
The use of Campaign Cloud™, Powered by Microsoft®, allowed Fine Gael's digital team to organize and manage all the different technology tools and distribute information to canvassers and the media. The software allowed them to successfully communicate with over 5,040 supporters of the organization in a single mail shot. With less than one week to mobilize those supporters, Fine Gael created an e-canvasser tool, similar to what was used in Barack Obama's 2008 campaign and it has proved to be a massive success. One of the key tools accessed via Campaign Cloud, was Microsoft's CRM Dynamics Online, which allowed Fine Gael was able to affectively organize and manage supporters' information and their profiles.
The digital campaign officially kicked off just eight weeks ago. As television advertising is not allowed in Irish General Elections, apart from limited party political broadcasts per campaign other methods of communications needed to be explored.
The Leader of the Fine Gael Party, Enda Kenny, wanted to engage directly with the public and listen to their views on what went wrong in the economy and what recommendations they had to fix the problems. Mr. Kenny felt that for too long, politicians were speaking to the electorate and not really listening to what they had to say.
It was decided to use digital media to engage in Democracy 2.0. The Party took the bold move to take down their website which contained information about their policies and candidates. In its place, they put up a public forum to allow the Irish people to tell the politicians what they thought about the current situation in Ireland. Since the forum was set up over 40,000 comments were submitted by members of the public. The Irish public told Fine Gael that they were concerned about the EU/IMF bailout, job losses, youth immigration, health services, tax increases, and the failings of the Irish political system. The feedback received from the public was then fed into Fine Gael's election planning and helped shape their policy agenda, "Five Point Plan" and their campaign slogan, "Let's Get Ireland Working."
A new website was launched at the beginning of the campaign and has evolved with new content, videos and interactive tools since. Fine Gael's YouTube channel became the most popular political party channel in Ireland reaching the 6th highest ranking in all of Ireland by reporters and grew over 3000% over the past few weeks.
Over 104 separate candidate "Take Action Web Pages", Facebook and Twitter accounts were created in just weeks to provide a way for voters to learn about the Fine Gael candidates and communicate with them online. Fine Gael also used the online advertising platforms of Google and MSN.ie, which control over 95% of the internet traffic, to help drive online engagement to Fine Gael sites. This was the first time video ads and rollover advertising was used for political campaigns in Ireland. Ads were also placed on Facebook pages targeting opponents and all 104 Fine Gael candidates to help direct traffic.
Using technical integration with Facebook and MSN Messenger™, widgets were created to allow users to donate the status of their accounts to the Fine Gael Party. By informing their Facebook friends that approximately 3,000 users participated in this initiative in less than 48 hours.
Fine Gael's viral campaign efforts were helped by the first Irish language tweeted debate commentary and the historic live streaming, through Ustream, of a public debate which brought over 30,000 visitors to the site in minutes during the live broadcast.
Other creative digital tools were used throughout the campaign to help gain momentum. Valentines' e-cards, "twibbons", "Twolicies", "Donate your Facebook status" and interactive website opportunities all helped to maintain interest and drive over 250,000 visitors to the website, which lead to a 600% increase in visits.
The impact of the digital efforts organized by a good team on the ground along with providers like , Microsoft, Google, Facebook, Ning, Oddcast, Twitter, and ElectionMall.com will change the way political communications is done in Ireland and across Europe. Just as Obama's campaign in 2008 showed the rise of digital campaigns in the U.S. The 2011 Elections in Ireland have seen a similar phenomenon.
About Fine Gael:
Fine Gael is the largest Opposition Party in the Irish Parliament, the Dail. A centre right Party, they are a member of the European People's Party Group in the European Parliament, the largest political grouping in that parliament. Enda Kenny became Leader of Fine Gael in 2002 after a heavy electoral defeat to Fianna Fail, traditionally the largest Party in Irish politics. Since then, under Kenny, Fine Gael enjoyed electoral success in the European Parliament Elections of 2004 where they became the largest Irish Party in the European Parliament, won a record of 20 extra seats in the 2007 General Election in Ireland and then became the largest Party in Local Government in the 2009 Local Authority elections. Building on these previous electoral successes, Kenny looks set to lead Fine Gael to his Party's strongest electoral performance in its history in the General Election on Friday 25th February.
About ElectionMall, Inc.
Established in 1999, ElectionMall.com. is a non-partisan world leader in providing on demand (cloud-based solutions for campaigns and elections worldwide, effectively utilizing technology and business know how to enable candidates, advocacy groups, and nonprofits to generate enhanced gains in awareness, funds, & votes. ElectionMall is the exclusive partner for Microsoft® in the campaigns and elections market. ElectionMall is headquartered in Washington, D.C, with international offices in Brussels, Bogota & Mexico City. For more information, visit http://www.electionmall.com or call 1-888-932-2946.
###