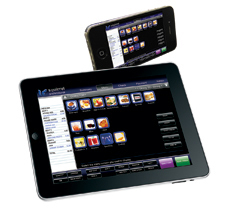 (PRWEB) February 24, 2011
Squirrel Systems today announced the launch of its latest addition to the Squirrel Mobility suite of products, Squirrel Professional for Apple mobile devices, at the International Restaurant Foodservice Show of New York, which starts Sunday, February 27th, 2011 at the Jacob K. Javits Convention Center. Squirrel Professional is a point of sale solution that allows restaurants, bars, and hotels to manage their food and beverage operations from stationary terminals as well as mobile tablets and handhelds like the iPad, iPhone, and iPod touch.
"We're extremely pleased that our Squirrel Professional point of sale software is now compatible with Apple mobile devices. This solution not only gives our customers an efficient way for taking orders at the table, but they also now have the ability to manage operations from anywhere in their establishment," says Bob Mackett, President of Squirrel Systems. "From updating special promotions to changing menu items and prices, users can do it all from Squirrel POS software running on an iPad, iPhone, or iPod touch."
Customers get the same Squirrel Professional experience whether using a stationary terminal or Apple mobile device since the same software runs on both. As a result, little to no training is required when implementing an iPad, iPhone, or iPod touch with the easy-to-use Squirrel Professional system.
Squirrel has leveraged considerable experience in the industry as well as with touchscreen technology to remain at the forefront of POS innovation. Bob Mackett says, "In 1984, Squirrel pioneered the first restaurant point of sale system with touchscreen technology and since then, we have continued to introduce hospitality industry innovations --- we were the first POS company to launch a 24/7 help desk for customer support. Squirrel Professional for the Apple iPad, iPhone, and iPod touch represents the next evolution of Squirrel's point of sale offerings."
Squirrel Professional for Apple mobile devices can be seen at the Sorbis booth (#2146) at the International Restaurant & Foodservice Show of New York from February 27th to March 1st, 2011.
About Squirrel Systems
Squirrel Systems is proud to be celebrating 27 years as a technology provider to the global hospitality industry. In 1984, Squirrel Systems pioneered the development of restaurant point of sale systems with touchscreen technology and over the years, Squirrel has introduced innovations such as integrated credit card authorization at the POS and native Microsoft SQL Server databases for real time data access. This spirit of innovation and success continues today with award-winning and customer-focused products like Squirrel in a Box, Squirrel in a Box for Hotels, and Squirrel Professional as well as unparalleled support programs such as Squirrel EasyCare and Squirrel SmartWatch. Squirrel is a Microsoft Gold Certified Partner and offers solutions that meet the highest level of Payment Card Industry validation, PA-DSS (Payment Application Data Security Standard). For more information, visit http://www.squirrelsystems.com.
###