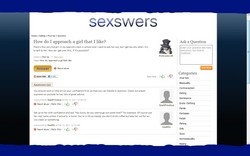 Sex, answered.
Flagstaff, AZ (PRWEB) February 28, 2011
Sexswers.com is a new and exciting questions and answers community geared towards adult issues such as sex, fetishes, fantasies, relationships, health, sexual preferences, romance, religion and much more without unnecessary censorship and restrictions. On Sexswers adults can express themselves freely and get help from other members of the community as well as sharing their own knowledge with those who need it. Unique from most other "question and answer" sites the members can visit each others profiles, send messages and befriend each other much like you can on Facebook, with the added benefit of anonymity.
The site is very user friendly, and totally cost-free. You simply sign up, fill out your profile and you are ready to go. The Sexswers blog features weekly reports on everything that is going on on the site and in the community, and is a chance for the users to communicate directly with the sites owners. Sexswers utilizes a point based reward system to encourage members to be active and helpful when they are online. Every answer given will earn you 2 points, and if your answer is chosen as the best answer by the asker you are rewarded with 10 points. Top contributors will be featured on the community page and have their avatars posted according to their rank.
Many questions regarding sex, relationships, love, and more are too intimate and maybe even embarrassing to talk about in person. On sexswers.com that is not a problem, and the user can get answers to even the most private of issues while enjoying full anonymity. Through our private message system the users can easily contact an answerer they find particularly helpful and keep the conversation going hidden from the public.
Visit Sexswers for more information and a closer look at this exciting new knowledge community.
# # #