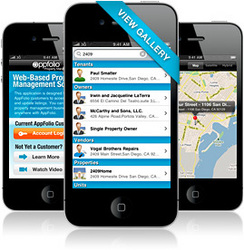 I love that I have the freedom to conduct business outside of the office.
Goleta, CA (PRWEB) February 24, 2011
AppFolio's web-based property management software now includes the ability for customers to manage their business at anytime and from anywhere using their iPhone. This new application makes it even easier for AppFolio clients to run a mobile property management business.
The AppFolio iPhone application is designed for customers using AppFolio's web-based property management software and works only if you are a current client. The application is available for free download from the iTunes store.
Key Features Include:

Access All Contact Information: The AppFolio iPhone application provides immediate access to all resident, owner, property, unit and vendor records while working in the field – dramatically increasing productivity while away from the office.
Respond Faster: Simply click to call or email contacts on the spot so you can respond to urgent issues even faster.
Integrated Maps: Show maps with properties, units and tenants in each record so you can find your destination in seconds.
Take Photos for Marketing & Documentation: Once reaching their destination, a property manager can now snap photos from their iPhone and upload the images directly to AppFolio for site inspections or marketing purposes.
Most Current Data: The data is synchronized on the iPhone application so you're always connected to the most accurate information.
"I love that I have the freedom to conduct business outside of the office", says Ray Scarabosio, Owner of Jackson Group Property Management in San Francisco, CA. "At property inspections, we used to carry a notepad, camera, laptop, broadband card, etc. but now all we need is an iPhone. This mobility is just a huge benefit to our business."
AppFolio's web-based property management software allows property management companies to more easily market, manage and grow their business with one single solution. AppFolio customers find and retain better residents faster, increase their profitability and love the ability to work from anywhere. If you're interested, learn more about AppFolio here.
About AppFolio
Headquartered in Santa Barbara, AppFolio was started by a team of technology leaders with proven experience creating software that businesses love to use. AppFolio creates complete, easy-to-use, web-based solutions for multiple vertical markets and the first AppFolio SaaS service was specifically created for residential property managers. With investors including Cisco Systems, BV Capital and the Investment Group of Santa Barbara, AppFolio's rapid growth is being fueled by very happy and loyal customers.
###