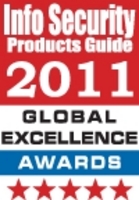 Some of the most recognized global website brands trust our market-leading phone verification technology to protect their sites from fraud, spam and bulk registrations
Marina Del Rey, CA (PRWEB) February 24, 2011
TeleSign (http://www.telesign.com), the market leader in phone-based authentication and verification services, today announced that Info Security Products Guide has named TeleSign's latest phone verification release winner of the 2011 Global Excellence Awards in Authentication. More than 50 judges representing a broad spectrum of industry voices from around the world determined the 2011 Global Excellence Awards Winners and Finalists. Winners were announced during the Info Security Products Guide Global Excellence Awards dinner event on February 16, 2011 in San Francisco.
"We're gratified to receive industry wide recognition for the excellence we have achieved with our authentication technology," said Steve Jillings, TeleSign CEO. "Some of the most recognized global website brands trust our market-leading phone verification technology to protect their sites from fraud, spam and bulk registrations."
TeleSign's real time telephone verification sends an automated voice call or SMS to an end user with a one-time code that is entered into the computer to continue. By forcing users to provide a legitimate phone number, companies prevent bulk registrations, spam, and fraud. Processing over one million transactions per day in more than 200 countries and 50 languages, TeleSign is the undisputed market leader in the phone verification space. TeleSign ensures industry recognized success rates with proprietary features like phone number cleansing, which automatically corrects user errors when entering a phone number, and PhoneID, which detects different types of phones including non-geographic VoIP numbers.
About TeleSign
Founded in 2004, TeleSign is the largest service provider in the rapidly growing phone-based verification and authentication segment. By sending a one-time pin code via voice or SMS to an end user, TeleSign authenticates the user in real time, immediately reducing fraud and spam. TeleSign provides verification services for some of the web's largest and most prominent companies, verifying users in more than 200 countries and 50 languages.
PhoneID, another TeleSign technology, complements Telephone Verification by providing information about both domestic and international telephone numbers, including the type of phone associated with a particular number (landline, mobile, VOIP, etc.), providing additional data to clients to influence their security policies. Since inception, TeleSign has processed more than one billion phone based authentication transactions in a broad range of categories such as social media, lead generation, online classifieds, financial services, eCommerce, and widely distributed cloud based services. According to clients, what differentiates TeleSign from other solutions is simple: scalability, deliverability, and reliability. TeleSign's SaaS platform transacts more volume than any other service provider, while maintaining industry leading deliverability rates and 99.999% uptime.
About Info Security Products Guide
Info Security Products Guide sponsors leading conferences and expos worldwide and plays a vital role in keeping end-users informed of the choices they can make when it comes to protecting their digital resources. It is written expressly for those who are adamant on staying informed of security threats and the preventive measure they can take. You will discover a wealth of information in this guide including tomorrow's technology today, best deployment scenarios, people and technologies shaping info security and independent product evaluations that facilitate in making the most pertinent security decisions. The Info Security Products Guide Awards recognize and honor excellence in all areas of information security. To learn more, visit http://www.infosecurityproductsguide.com and stay secured.
###