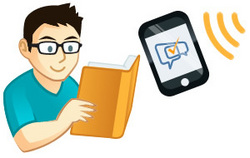 SMS marketing still has the greatest reach and widest consumer adoption of any mobile technology by a long, long way.
(PRWEB) February 25, 2011
Mobile marketing is a hot topic for marketers at the moment, but with all the talk of apps and the mobile web one of the most popular channels with consumers is often overlooked.
SMS marketing is an easy and effective way for organisations to engage with their audiences everywhere and according to a recent Ofcom study SMS has over 3 times the market reach of apps (at 89% of the UK population).
Sign-Up.to have condensed the key things marketers and business owners need to know about using SMS marketing successfully into their new Coffee Break Guide to SMS Marketing.
The free guide covers a range of SMS topics, including:

The difference between shortcodes and long numbers
The anatomy of an SMS message
Creating text-in services
Building your SMS lists
Ideas for using SMS to market your business
Using concatenated SMS for long messages
Managing unsubscriptions
The SMS marketing guide can be downloaded free here
The guide has been written by the mobile marketing experts at Sign-Up.to who have over 8 years experience helping thousands of businesses with their permission based mobile marketing.
###