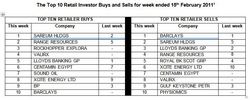 London (PRWeb UK) February 26, 2011
Darren Hepworth, Trading and Customer Services Director, TD Waterhouse comments: "TD customers' investment outlook appeared to be influenced by the social and political turmoil in the Middle East and North Africa this week as it continued to affect markets. The situation in Libya was the latest to cause the FTSE 100 to fall as it closed at 5996.76 on February 22.
"Centamin Egypt moved up to second in the top ten buys and fifth in the sells this week as reports from Egypt said the company's Sukari gold mine employees were staging a sit-in over pay and company ownership on February 18. The firm was quick to advise that the number of protesters was far fewer than reported and that day-to-day operations had been unaffected, but this did little to stave off a huge drop in share price . After opening the day at 140.08p, the share ended on 124p having dipped as low as 119.88p during trading.
"Elsewhere in mining, Xstrata returned to take fifth place in this week's buys. The company recently fell victim to a different kind of turmoil, as heavy rain and flooding meant the company had to cease operations at its Ulan mine in New South Wales, Australia.
"Other miners fared slightly better, as TD customers picked gold as a possible safer alternative to stocks affected by the ongoing unrest; Central Rand Gold entered the buys in 10th place, its share price closing up at 235p on February 22.
"Away from the disorder, banks proved popular this week, with shares in Lloyds Banking Group, Royal Bank of Scotland Group and Barclays accounting for 40% of the top ten buys and nearly 60% of the sells. Lloyds took top spot in the buys and third place in the sells, while RBS did the exact reverse at first in the sells and third in the buys.
"Meanwhile, Taylor Wimpey - which announced this week that it is to offer first-time buyers 95% mortgages in a new lending partnership with Saffron Building Society - entered the sells table in 10th place. The home builder's share price dropped to a low of 36.16p on February 22 having started the day at 37.58p. The fall came amid analyst remarks that the company may make less money than expected from the sale of its North American operations, following a report that showed U.S. house prices had fallen in the 12 months to December 2010."
TD Waterhouse provides UK investors with simple, fast and easy share dealing services - combined with high quality news and information from leading providers including AFX and Morningstar (Hemscott) - to both active traders and longer-term investors. These include UK and international equity trading, Individual Savings Accounts (ISAs) , Regular investment accounts, Self Invested Personal Pensions (SIPPs) and Contracts for Difference (CFDs).
TD Waterhouse is authorised and regulated by the Financial Services Authority (FSA), 25 The North Colonnade, Canary Wharf, London E14 5HS (FSA registered number 141282), member of the London Stock Exchange and the PLUS market.
Share Price Performance chart for Centamin Egypt (16 February – 22 February 2011)
###