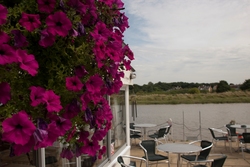 (PRWeb UK) February 25, 2011
It's fair to say that the recession has seen many of us feeling the pinch, and the lack of extra money in our pockets has seen one of the great English traditions, the pub industry, become one of the hardest hit in recent years. Rises in alcohol tax and low supermarket prices with huge discounts have seen many pubs struggling to make ends meet, leading to an ever rising number of closures and, more recently to pubs reducing their opening hours in an effort to survive.
However, in the face of the many closures, one local pub is dropping Anchor and continues to thrive, in the beautiful village of Rowhedge. While many of its competitors are restricting their hours to busier periods, the Anchor at Rowhedge is open seven days a week including all day every Saturday and Sunday for drinking and dining.
Whereas many pubs today are struggling to find a wide enough customer base to be successful, The Anchor at Rowhedge has found itself a combination of aspects to pull in the punters. With an enviable position on the River Colne offering not only fantastic scenery, moorings are available for those drifting along the Colne. The Anchor is within walking distance of Colchester town centre with a fantastic amble through Castle Park and along the quayside all the way to the pub, and its proximity to Colchester makes it an easy drive for those less energetic. Inside the pub, whilst proud to boast a traditional bar serving fine ales from the nation's oldest brewer, this hasn't taken away from the quality of the restaurant, offering the kind of fresh homemade meals that aren't as easy to find as they once were.
The Anchor also holds a monthly charity quiz night on the first Sunday of every month in aid of Essex Air Ambulance, so not only does it offer customers a friendly, welcoming atmosphere with a fine selection of freshly prepared homebaked food, it supports local organisations and charities too.
The Anchor, High Street, Rowhedge Quay, Colchester, Essex CO5 7ES bookings advised on 01206 728382 or visit http://www.theanchor-rowhedge.com.
# # #