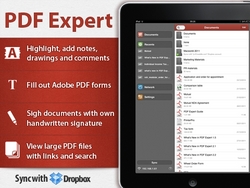 Odessa, Ukraine (PRWEB) February 25, 2011
Readdle, the publisher of quality iOS applications for business and productivity, is announcing a surge of customer demand for its PDF Expert iPad and the availability of a new release, PDF Expert 2.2. Readdle's PDF Expert for the iPad is an ultimate PDF handling application that gives businesses the essential power to sign documents, fill forms and collaborate on documents with full compliance to Adobe PDF format specification.
PDF Expert for iPad 2.2 introduces users to new annotation-related features that allow them to protect and share all filled data, signatures and annotations, within a usual PDF file. PDF Expert can now flatten highlights, comments, typed-in values and even handwritten signatures into a regular PDF files, giving users the easiest way to finalize and share this information regardless of the device and application used by the recipient.
Since its debut on October 2010, PDF Expert for iPad has acquired an impressive list of avid customers from educational, insurance, medical and other vertical markets. Companies of all sizes have seen the value of the Apple iPad in handling the documents and, ultimately, run business better.
"Using the iPads in business operations is pretty new to everyone," said Igor Zhadanov, Readdle CEO. "We are working closely with our customers to explore the new ways to collaborate on documents, collect data and get the deals signed. PDF Expert for iPad is the only product on the iOS platform to handle PDF forms, signatures and annotations with full compliance to Adobe PDF format. That is where PDF Expert is essential to turn the iPad into business tool".
PDF Expert for iPad is immediately available on the Apple App Store for $9.99 to the new customers and as a free update for existing PDF Expert owners. More information is available at http://readdle.com/pdf_expert_ipad
About Readdle
Readdle provides productivity and business software that helps iOS users to use desktop-class features on their mobile devices. Readdle products include top rated software centered on document management, collaboration and personal productivity on the go. Since 2008 more than 1 400 000 people around the the world use Readdle software to carry files, review documents, capture important information and manage personal schedules. Readdle products are available through the Apple App Store and enterprise licensing. More details can be found at http://www.readdle.com.
###