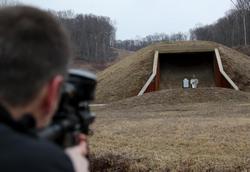 My concept was to create a target that didn't need a power source, was environmentally friendly and most importantly, more realistic for the Warfighter
Bloomington, IN (PRWEB) February 25, 2011
Crane, Ind. Commercialization of Naval Surface Warfare Center, Crane Division (NSWC Crane) expendable thermal target technology brings a new dimension to night vision training and applications.
A Cooperative Research and Development Agreement (CRADA) was signed Jan. 31, 2011, allowing NSWC Crane and ProEngage, LLC to work with military and first responders to further develop design specifications and produce prototypes for testing.
Invented by NSWC Crane engineer Adam Parsley, an expendable thermal target is comprised of cloth housing and a grouping of thermal emitting cells within the cloth housing that are capable of giving off heat for several hours.
"Currently Warfighters using thermal sights rely on electricity, batteries or even fire to create a heat source to help them train using their night vision equipment," said Parsely. "My concept was to create a target that didn't need a power source, was environmentally friendly and most importantly, more realistic for the Warfighter."
ProEngage CEO and University of Southern Indiana (USI) professor, Dr. Les Nunn worked with the Technology Transfer Team at NSWC Crane to select the expendable thermal target for commercialization.
Licensed and set for manufacturing early 2011 by ProEngage, the expendable thermal target is expected to offer a multitude of military and private industry applications.
"I see tremendous potential in this invention and have been pleased working through the process with the team at Crane," said Dr. Nunn. "Beyond its military uses we also are looking at how the target can help first responders and emergency workers who need a reliable, responsive heat source to help them do their jobs better and more efficiently."
As a federal research laboratory leader, NSWC Crane offers access to its expertise and state-of-the-art facilities for economic development and job creation. NSWC Crane's research and development efforts support the Warfighter by providing capabilities and resources to advance technologies for both military and commercial use.
"Our primary mission is to find the sharable assets that exist in the innovations developed every day at the Warfare Center," said John Dement, NSWC Crane Technology Transfer Program manager. "Bringing the thermal target to the market is just one example of NSWC Crane technology's ability to create opportunities for companies while helping the Warfighter."
NSWC Crane is an economic engine by engaging in numerous programs to develop inventions into practical and broad applications. NSWC Crane has more than 175 inventions available for licensing and collaboration.
For additional information on the program and opportunities to license and collaborate on NSWC Crane innovations please contact Crane_TEO (at) navy (dot) mil or visit http://www.navsea.navy.mil/nswc/crane/warfighter/pages/Patents%20and%20Credentials.aspx.
###