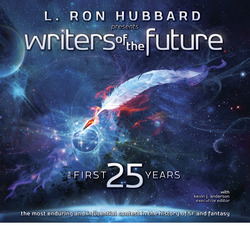 This is a look back over the last twenty five years in pictures and prose that celebrated Hubbard's crowning achievement. Readers will be astounded at how many writers have come through the program
Hollywood, CA (PRWEB) February 24, 2011
The current issue of Locus Magazine features their "Locus 2010 Recommended Reading List" where they select their choice of top titles in the many categories connected with science fiction and fantasy along with best related works.
In the nonfiction category of recommended titles the article lists, Coffee table book L. Ron Hubbard Presents Writers of the Future: The First 25 Years, edited by Kevin J. Anderson (Galaxy Press), is an overview of the contest's history with an eye-opening series of profiles of contest winners and judges, including biographical profiles and personal comments about the contest and their careers. This volume highlights how many of today's successful and up-and-coming writers have been involved with the contest.
The significance of this recognition goes beyond the fact of celebrating the Contest's silver anniversary. Having now proven itself, the Contest is stably established as today's most successful means for aspiring writers to get their break into the publishing industry.
A recent review for the book posted by Gary Roen in http://www.movementmagazine.com aptly makes this point, L. Ron Hubbard had an idea that is now over twenty five years old. The concept was to bring new writers into the field of science fiction. So he created 'The Writers of the Future' contest. So far more than 700 novels and 3,000 short stories have been published by authors who participated in the contest. The list of writers is huge with so many different books published. This is a look back over the last twenty five years in pictures and prose that celebrated Hubbard's crowning achievement. Readers will be astounded at how many writers have come through the program.
The Writers of the Future contest was created by L. Ron Hubbard in 1983 as a means of allowing the newcomer a chance to have their work seen. And this program has provided that starting point for so many careers. Over 300 writers have seen their name in print over the 26 years of the contest's history, with nearly 100 now having successful careers as a writer. In addition to continuing on in the field of speculative fiction, several have gone on to publish in genres such as mystery and romance, to write for television and motion pictures and to become editors and critics.
For more information on the Writers of the Future Contest and to enter submissions online, go to http://www.writersofthefuture.com.
###