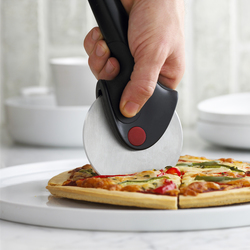 Chicago, IL (PRWEB) February 25, 2011
Today at the International Home and Housewares Show, Trudeau Corporation, a leader in quality kitchen and table products, launches their new Stress Less line of kitchen tools. Blending both traditional style with ease of use, the Stress Less line is great at making everyday kitchen tasks easier than ever. By taking into account kitchen gadget enthusiasts with limited hand dexterity, Trudeau's designers were able to come up with a line of products that reduces the stress from everyday tasks, while still letting consumers get the most out of their kitchen tools.
The complete Stress Less line includes five new products, all of which have their own unique features that make them easier to use. The Stress Less Pizza Cutter is unique in that it allows two grips for comfortable and easy pizza cutting. The Stress Less Garlic Press was designed to allow users to use their body weight to efficiently press garlic. The Stress Less Rotary Cheese Grater features an easy to turn cast iron handle, which works for both left and right-handed users. The Stress Less Can Opener has a unique rotating cranking arm designed with increased leverage, which requires 50% less effort when cranking. The Stress Less Easy Grind Pepper Mill has four times the power of most pepper grinders, allowing for smooth, easy grinding.
All of the products will be available in retail stores this April with a suggested retail price from $12.99-$34.99.
The entire Stress Less line, along with the rest of Trudeau's 2011 new product line will be on display throughout the IHA show at the Trudeau Booth, S2246.
ABOUT TRUDEAU
Trudeau Corporation is a leading supplier of quality kitchenware and tabletop accessories in North America. The company was originally established in 1889 as an importer of fancy goods and tableware, under the name of Genin Trudeau. Trudeau Corporation quickly developed an extensive distribution network and a reputation for the quality of its products. Trudeau is headquartered in Chicago, Illinois, occupying a 116,000 square foot facility, which includes offices, showroom, a warehouse and customer service division.
The Trudeau Corporation headquarters are based in Montreal, Canada, where they occupy a 125,000 square feet facility, including a warehouse, a showroom and offices. Product development is done both in Chicago and Montreal. As well, Trudeau has operations in China with offices and a warehouse. Approximately 1/3 of the Corporation's activities are exports, having sales offices in the UK, Spain and Holland. Trudeau products are currently being exported to over 60 countries.
###