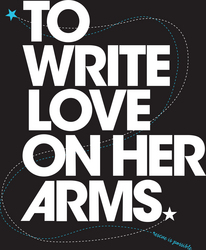 Orlando, FL (PRWEB) February 25, 2011
To Write Love on Her Arms began as an attempt to tell a story and a way to help a friend in Spring 2006. The story and the life it represented were both things of contrast – pain and hope, addiction and sobriety, regret and the possibility of freedom. Founder Jamie Tworkowski and the organization continue to show their support in the upcoming major motion picture film release titled after such friend, "RENEE." The film stars Kat Dennings ("Thor," "Nick and Norah's Infinite Playlist") as Renee, Chad Michael Murray ("One Tree Hill") as Jamie Tworkowski, and Rupert Friend ("The Young Victoria," "Pride & Prejudice") as David McKenna, a recovering addict who offers his home to Renee as a safe haven. The supporting cast also includes Corbin Bleu ("High School Musical"), Mark Saul ("The Social Network," "Grey's Anatomy") and newcomers Will Peltz ("Sugar") and Juliana Harkavy (upcoming "Dolphin Tale"). "RENEE," is inspired by the true story of Renee Yohe, a young Florida woman whose commitment to cease her cycle of chaos from drug addiction, alcohol abuse and self-injury motivates many teenagers and young adults today.
Wednesday, February 23rd marked the first day of filming "RENEE," which happened to be exactly 5 years after Jamie and Renee first met. The film's story follows 19-year-old Renee who has always loved fairy tales: the idea of a princess, a hero and a happily ever after. But Renee's life is that of a darker tale: she's a young woman battling addiction, depression and self-injury. In a creative blend of artistic fantasy balanced with harsh reality, the movie follows Renee on her courageous journey toward recovery.
Told in juxtaposition between gritty realities and rich fantasy, the film will also have a strong musical presence featuring performances on camera from Travie McCoy and singer/songwriter Rachael Yamagata, among others.
The TWLOHA team has enjoyed being involved in bringing the film to fruition. Jamie Tworkowski worked with Director Nathan Frankowski as a story consultant on the script, some staff members worked on set to dress the TWLOHA office and staff and interns were extras in the first day of filming.
Jamie Tworkowski, the founder of To Write Love on Her Arms (http://www.twloha.com), wrote a true story about meeting Renee during those intense five days. He posted the story on MySpace, and to his surprise, found that it resonated with many to the extent that he created the successful non-profit movement, naming it after the title of his story, "To Write Love on Her Arms." To Write Love on Her Arms is a non-profit movement dedicated to presenting hope and finding help for people struggling with depression, addiction, self-injury and suicide. TWLOHA exists to encourage, inform, inspire and also to invest directly into treatment and recovery. Since its start in 2006, they have donated over $850,000 directly into treatment and recovery and have answered over 150,000 emails from over 100 countries.
For an opportunity to be involved in the film, please check http://www.TWLOHA.com for updates.
For more information on To Write Love on Her Arms, please visit http://www.TWLOHA.com and please check out some highlight videos below.
Miley Cyrus, Joaquin Phoenix create video to encourage fans to vote for Chase Campaign: http://www.twloha.com/blog/miley-cyrus-shows-joaquin-phoenix/
TWLOHA featured on CBS Sunday Morning: http://www.twloha.com/blog/twloha-cbs-sunday-morning-1/
TWLOHA featured on NBC Nightly News with Brian Williams: http://www.youtube.com/watch?v=cJS2yXw8dKo
For more information, please contact:
Dayna Ghiraldi | Big Picture Media
1133 Broadway, Suite 733 | New York, NY 10010
o: 212.675.3103 | c: 646.467.0524
dayna(at)bigpicturemediaonline(dot)com | aim: daynabigpicture
http://www.BigPictureMediaOnline.com | @bigpicturenyc
###