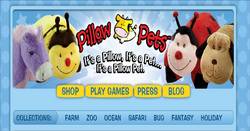 Oceanside, CA (PRWEB) February 25, 2011
CJ Products, creator of the Pillow Pets™ brand, is pleased to bring their world of children's products into consumers' homes via online communities. With the launch of a new website, blog, and Facebook page, as well as Twitter handle, families can interact with the popular and cuddly Pillow Pets plush animals from the comfort of their own computers and mobile devices.
The "hub" of our online communities is our newly redesigned website - http://www.MyPillowPets.com. This new version is much more than just an e-commerce site, although you can certainly purchase Pillow Pets brand products there, too. Visitors will enjoy a variety of games that enable them to interact with Pillow Pets plush animal characters and may click on opportunities to learn more about some of their favorite friends. The website will also showcase all of the products under the Pillow Pets banner including books, blankets and board games. The new website will be a central location for news and updates on products as well the place to go for the chance to win free merchandise. For example, to celebrate our new website, we're giving away Pillow Pets plush animals for a year to ONE lucky winner! Go to our new site, look around and then email us at pillowpets(at)carabinerpr(dot)com with your 12 favorite Pillow Pets plush animals and/or Pillow Pets products by March 15, 2011. We'll select one person at random who will win one Pillow Pets plush animal of their choice a month for a whole year! Holy cow (or puppy or pig or ladybug…)!
"We're really excited to introduce several new ways to make Pillow Pets products yours," said founder and CEO Jennifer Telfer. "We're looking forward to meeting all of our friends, old and new, online soon!"
You may also already know that Pillow Pets plush animals have their own blog, written by seven characters from around the world. They invite children of all ages to join them as they explore the cultures and traditions of our continents. Ms. Lady Bug leads this group of cuddly pals through the blogosphere. Readers will learn more about Pillow Pets plush animals' favorite things to do and eat and what they like best about themselves and each other. To engage fans, there are opportunities to ask the Pillow Pets plush animals questions and they'll post the answers on the blog. Plus, there will be rewards for those who read the blog, so be sure to visit often!
And, since Pillow Pets plush toys are social animals, they're always looking to make new friends. Now, they are socially connected online through Facebook and Twitter. Stay up-to-date and in-the-know on all things from the Pillow Pets brand by following them on Twitter and "liking" them on Facebook. Be the first to find out news from the people behind Pillow Pets products, post pictures of you and your Pillow Pets plush animals on your own adventures, and much more by connecting with us online.
About Pillow Pets™
Since 2003, Pillow Pets™ brand products have been bringing smiles to the faces of all ages. The concept for the snuggly companions was the brainchild of a San Diego-based mother of two, who had grown tired of picking up stuffed animals strewn across her children's rooms. What began with the simple goal of transforming a stuffed animal into a functional item for children has grown into an amazing jungle of popular retail and wholesale products including plush foldable stuffed animals, books, blankets, slippers and games. Pillow Pets plush animals are manufactured and distributed by CJ Products, LLC, and Ontel Products Corporation. For more information, please visit http://www.MyPillowPets.com.
# # #