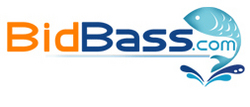 We have been waiting for this moment for to long, the Grand Opening of BidBass marks a momentous occasion for all team members
Inglewood, CA (PRWEB) February 25, 2011
After several beta test auctions, and valuable feedback given by the testers, the BidBass Marketing, Development, and Support teams have ironed out all the glitches and are ready to launch. "We have been waiting for this moment for to long, the Grand Opening of Penny Auction BidBass marks a momentous occasion for all team members," said BidBass Internet Marketing Manager.
BidBass Founder said, "I am very excited to see BidBass open to the public". To mark this occasion next Sunday BidBass will be auctioning off a 16GB iPad with no reserve. The current average selling price on BidBass is $0.11. That means you could win a $499 iPad for $0.11.
BidBass has already won the attention and favor of several noteworthy Celebrities such as the likes of Jennifer Love Hewitt Ghost Whisperer, Jeri Ryan Boston Public, and Dominic Monaghan Lost, and Lord of the Rings. BidBass has an A- rating from the Better Business Bureau, and current auction winners are reporting very fast shipping times on products. BidBass is on the path of being one of the most popular and trusted penny auctions around.
The iPad auction that marks the official Grand Opening is on the block for Sunday March 6, 2011 at 9:45pm EST, 8:45pm CST, and 7:45 PST. BidBass will also have Beginner Auctions, Nail Bitter Auctions, Reserve Auctions, and Free Auctions available to bid on.There will also be auctions running everyday, starting today.
# # #