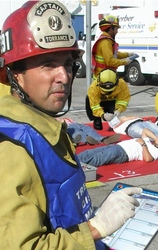 Accurate patient tracking is an absolute necessity", said Ortiz. "Even small mistakes in this area can have a major impact on bed availability and add suffering to family members.
Firehouse World, San Diego, CA (PRWEB) February 28, 2011
Disaster Management Systems (DMS) announced today a new response system for Mass Casualty Incidents. The system, called EMT3, is designed to optimize the response process for each of the three primary operational disciplines in an MCI - Triage, Treatment and Transport. The EMT3 system is comprised of a set of tools and processes that work together to provide optimal patient care, improved patient accountability and optimized resource management.
"We have been studying the mechanics of MCI response since the creation of ICS", said Dennis Ortiz, a veteran firefighter and co-owner of Disaster Management Systems, the nation's leading provider of disaster response systems. "What we found was that in the areas of Triage, Treatment and Transport there were notable deficiencies in all of the systems being utilized - including our own. EMT3 is designed to overcome these deficiencies and allow responders to be more effective overall".
The deficiencies Ortiz refers to occur first in the area of Triage. This process of counting patients and marking their acuity level is a critical first process. Inaccurate counts, excessive over-triaging or systems that allow for patients to self-re-triage are all variables that can have a detrimental impact on critical subsequent response activities such as resource allocation and bed availability. Compounding the issue are systems that do not allow for a separate count of pediatrics or that use marketing methods that can be easily obscured from view, hindering litter teams from effectively transporting the most critical first. Taking these and other existing detriments into consideration, DMS integrated a more effective triage count and marking system into EMT3.
The next discipline DMS studied was Treatment Areas. A focal point in evaluating the treatment process was patient accountability – the ICS requirement for documenting patients under a Treatment Unit Leader's care. "Patient accountability is an administrative task that too often conflicts with a responder's primary objective of saving lives", said Ortiz. "What we needed was a system that provides accountability without interfering with care." The EMT3 system accomplishes this task by providing Treatment Area Managers a simple method to 'admit' patients into their treatment areas upon completion of a secondary triage. The result is an ICS-compliant patient accountability system that enhances, not detracts, from a Treatment Area Manager's responsibilities.
Finally the EMT3 system addresses the shortcomings in current methods of tracking patients through the transportation process. "Accurate patient tracking is an absolute necessity", said Ortiz. "Even small mistakes in this area can have a major impact on bed availability and add suffering to family members." The EMT3 system greatly reduces the likelihood of mistakes by providing a seamless documentation and tracking system that integrates all aspects of patient movement though the system - from the treatment area, to loading and transportation, to service provider care given in route and even to the initial admittance of the patient into the hospital. The EMT3 tracking component meets and exceeds all ICS documentation requirements but does so in a manner that places no additional administrative burden on transportation personnel.
More information about the EMT3 system can be found at on the Disaster Management Systems' website or at their Firehouse World booth February 28th-March 2nd.
About Disaster Management Systems
Founded in 1996 in Pomona, California, by two retired Fire Captains, Disaster Management Systems is recognized as industry leader in developing and providing NIMS-based ICS and HICS response solutions. For more information please visit: http://www.triagetags.com.
# # #