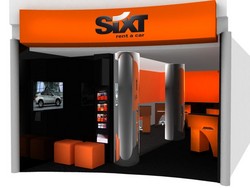 This is a very exciting opportunity for us to increase our customer base at one of the countries leading airports whilst continuing to deliver the highest quality product and service. The move to the terminal building will help us to offer a better servic
(PRWEB) February 28, 2011
Sixt rent a car will open a brand new office offering car hire at Stansted airport within the arrivals terminal this week as part of their continued expansion across the UK.
The opening will be a significant step forward for Sixt who previously operated a rental centre outside of the main terminal building at Stansted Airport. The new office will open for the first time on the 1st of March offering the typical Sixt fleet of high quality rental vehicles.
Sixt has built a solid reputation by offering higher quality rental vehicles than their competitors. The Sixt UK fleet is no different with top of the range cars available in all groups from the VW Polo as an economy car to the luxurious Mercedes E Class. A typical compact car would be a VW Golf and the BMW 1 Series is the standard intermediate car.
Sixt customers also have the choice to opt for an environmentally friendly range of cars such as the VW Polo Bluemotion which is exempt from the congestion charge.
Stansted is one of the UK's most important travel hubs with over 20 million passengers passing through every year. The competitive car hire market makes it an ideal area for Sixt to expand into as it continues to grow its rental operations.
The new branch at Stansted, which is located within the arrivals hall, will ensure a Sixt representative is immediately available allowing customers to pick-up their hire car without any delays. As well as a new office and updated facilities Sixt has also invested in additional fleet giving customers the best possible choice when renting.
Upon revealing news of the companies Stansted expansion Bob Baillie, operations director, at Sixt said: "This is a very exciting opportunity for us to increase our customer base at one of the countries leading airports whilst continuing to deliver the highest quality product and service. The move to the terminal building will help us to offer a better service to our existing customers whilst also attracting new business to our company."
The Sixt operation at Stansted Airport will be managed by Craig Nash, who joins the Sixt team as an experienced manager in the vehicle rental industry.
To celebrate the new opening Sixt will run a variety of promotions the first of which has already begun with prices for car hire at Stansted reduced by up to 40%.
Reservations for Sixt Stansted Airport can now be made on http://www.sixt.co.uk with prices starting from just £15 per day. From the 1st of March the opening hours will be extended to 06:00 – 23:00 daily.
About Sixt rent a car
Sixt AG, with its registered office in Pullach near Munich, is an international provider of high-quality mobility services. Founded in 1912, the company operates in around 100 countries. Sixt is the market leader for car rentals in Germany and Austria and one of the biggest manufacturer independent full service leasing providers. The Sixt Group generated a turnover of € 1.6 billion in 2009 and employs nearly 3,000 people worldwide. (2009 figure, excluding franchisees).
###