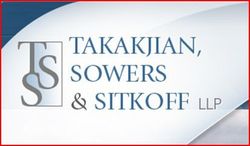 By reaching out through aggressive online marketing, we are carrying out our mission to protect defendants' rights and liberty.
Los Angeles, CA (PRWEB) February 27, 2011
It should come as no surprise that with the vast amount of business and financial transactions conducted using the internet that this is one of the most effective avenues of advertisement for any company. Takakjian, Sowers & Sitkoff, LLP recognized this as well and decided to team up with leading web design and marketing company Scorpion Design.
The firm selected an Ultimate package, one of Scorpion Design's most aggressive web marketing packages. This includes unique website design, high-definition online videos, professional web content, search engine optimization, flash animation and a number of other services that are absolutely crucial to achieving and maintaining search engine rankings. With more and more people using the internet to find attorneys and all other types of professionals and services, the firm's decision to pursue an aggressive marketing package such as this has come at just the right time.
The internet marketing campaign is centered around the firm's main website http://www.formerdistrictattorneys.com and also includes nine other niche websites that target the firm's specific areas of practice, including DUI, sex crimes, theft crimes, drug crimes and domestic violence. By visiting any of these sites, a visitor can find helpful information about criminal offenses specific to that particular field and can read the firm's blog, watch videos of the attorneys, and find out more about the firm and attorneys. These sites are also designed and aggressively marketed in order to drive valuable traffic to Takakjian, Sowers & Sitkoff.
Retaining the services of an experienced attorney is one of the most important things a person can do in the face of criminal charges, an arrest or an investigation by local, state or federal law enforcement. Takakjian, Sowers & Sitkoff is a law firm dedicated to preserving the Constitutional rights of clients throughout the greater Los Angeles area who are dealing with virtually any type of criminal matter. With their new websites, the firm expects to reach out to more people in need.
Take this opportunity to learn more about the firm and the services they offer by visiting their site online at http://www.formerdistrictattorneys.com.
# # #