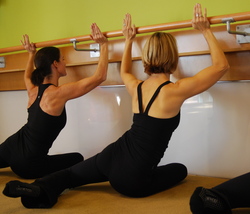 "We are excited to be introducing The Dailey Method to Southern California, and helping people achieve the longer, leaner and more fit bodies they seek." said Jill Dailey, co-founder of The Dailey Method
Corte Madera, CA (PRWEB) February 27, 2011
The Dailey Method®, LLC, a leading exercise company that was founded in San Francisco almost 11 years ago, announced today it will open three new studio locations in Southern California. The new studios will be located in Calabasas, Carlsbad, and Santa Barbara, California. Calabasas will be opening March 5th. Carlsbad and Santa Barbara will open in April/May.
As in The Dailey Method's other locations, the new studios will feature the company's proprietary one-hour fitness class, which combines ballet barre work, core conditioning, stretching, and orthopedic exercises. The classes effectively strengthen, tone, and lengthen the entire body, providing quick physical results. Classes will be available numerous times each day, and each location will offer a spacious studio, on-site childcare, full service locker room and the latest in fitness clothing.
The new Dailey Method studios will be celebrating their Grand Opening with a weekend of FREE classes, giveaways, and fundraising for a local charity.
The Dailey Method®, LLC currently owns and operates three Dailey Method studios in San Francisco and Marin County, CA. They have 20 franchise locations in California, Illinois, Arizona, Canada, and Paris, France. The company is owned by founders Jill Dailey McIntosh and Doug McIntosh.
# # #