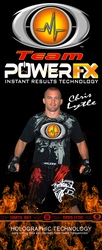 Los Angeles, CA (PRWEB) February 25, 2011
PowerFX—the company famous for its holographic wristbands—returns to the octagon in support of Chris "Lights Out" Lytle as he takes on Brian Ebersole at UFC 127 in Sydney Australia. As a long-time supporter of Lytle, PowerFX will be featured on the MMA fighter's fight corner banners.
Chris Lytle, a UFC veteran who has competed in MMA for over a decade is coming off of four consecutive wins, has never been knocked out or submitted to defeat. Lytle incorporates the use of the PowerFX wristbands throughout his training to enhance his balance, energy and strength. Lytle also makes use of the PowerFX wristbands in his daily life as he serves his community as a full-time firefighter at the Indianapolis Fire Department.
PowerFX wristbands are 100% medical grade silicone bracelets treated with negative ions and charged with the latest advancements in holographic technology. These frequencies work with the natural energy fields in the body to provide balance, strength, flexibility, energy, and endurance to help individuals perform at a peak performance level.
This summer PowerFX will also team up with Chris Lytle to support a cause close to his heart. PowerFX will release a series of custom wristbands by Lytle to help support the fight against Autism—which has affected his family. For more information about PowerFx please visit: http://www.powerfxstore.com.
# # #