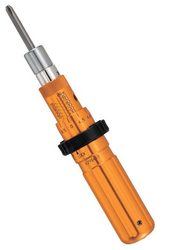 It's all about having the right torque screwdriver for the job.
San Diego, CA (PRWEB) February 28, 2011
Companies are looking for ways to be more efficient and productive in their assembly process. A way to do this is by using a torque screwdriver as part of the manufacturing process.
Eddie Silverberg, owner and torque expert at Flexible Assembly Systems says there are five important reasons to use a torque screwdriver:
1. Productivity – There's a torque screwdriver for every assembly application. Electric Torque Screwdriver, Air Torque Screwdriver, Cordless Torque Screwdriver, and a manual torque screwdriver have specific applications that will help speed up the assembly process.
2. Safety – Using the correct torque screwdriver will reduce worker injuries and keep your production on schedule. For high volume manufacturing, an ergonomic workstation can further increase the safety and productivity.
3. Quality Control – Using a torque screwdriver in critical fastening applications where a specific torque value is required will ensure the assembly process yields a high quality product. A torque screwdriver is much more accurate than a conventional screwdriver and takes the guess work out of "did I tighten the screws correctly"?
4. Reduction in Failures and Returns – Using a torque screwdriver will ensure assembly is being done to the highest level. This will keep the number of product failures and returns to a minimum.
5. Cost – A torque screwdriver will pay for itself 100 times over if used correctly during the assembly process. The longevity of today's high quality torque screwdriver will also ensure capital expenditures are kept at a minimum.
Even with all these great reasons, it's surprising why some companies are still using old technology, un-calibrated tools, or conventional screwdrivers. Mr. Silverberg states, "It's all about having the right torque screwdriver for the job." He adds, "It's my hope companies will see the light and start using a high quality torque screwdriver and ergonomic workstations for their assembly."
To learn more about Flexible Assembly Systems please visit http://www.FlexibleAssembly.com.
About Flexible Assembly Systems
Flexible Assembly Systems has been working together with companies requiring light-assembly solutions since 2003. Flexible Assembly Systems product list is extensive and includes Torque Screwdrivers, Electric Screwdrivers, Assembly Tools, Robotic Assembly, Automotive Tools, Torque Testers, Torque Products, Bits and Fastener Systems, Workplace and ESD Systems, and Material Handling Systems.
Contact:
Jaime Hernandez, Marketing/PR
Flexible Assembly Systems
800.696.7614, x250
http://www.FlexibleAssembly.com
# # #