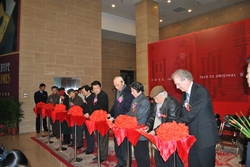 China is a natural expansion opportunity for our firm. Their fine art resources are vast and our bespoke period and modern frames will certainly enhance their collections- Eli Wilner, Founder and CEO
New York, NY (PRWEB) February 28, 2011
Eli Wilner & Company has formed a partnership with the China National Culture & Art Co., Ltd, with headquarters in Beijing, under the direction of Mr. ChangHe Lu.
Eli Wilner was honored to participate in a ribbon-cutting ceremony at the National Art Museum of China, in Beijing. The ceremony opened an exhibition of recent paintings by a group of renowned contemporary Chinese Realist painters, included Yang Feiyun. Eli Wilner & Company created 14 replica frames for this exhibition, which was composed of meticulous copies of paintings by European Old Masters, created by the artists over the last year.
During the artists' visit to the United States in February, Mr. Wilner was one of the keynote speakers at an event in their honor hosted at the Chinese Ministry of Culture, in New York City.
Mr. Wilner looks forward to many more opportunities to work with the great museums, artists and collections of China.
About Eli Wilner & Company
Recognized as the foremost worldwide authority on antique frames, and founded in 1983, Eli Wilner & Company specializes in American and European frames from the 17th through mid-20th centuries. Clients include fine art collectors, major art and historical institutions as well as The White House, where he has created 28 frames for its collection.
With an atelier composed of a team of thirty highly skilled artisans, including 15 frame conservators, and over 10,000 custom framing projects completed to date, Eli Wilner & Company takes pride in each project. Every frame is handcrafted to not only reflect the time in which the painting was created, but also to best reflect the framing choices known to be made by the artists themselves.
http://www.eliwilner.com
Eli Wilner & Company
Master Framers
1525 York Avenue, New York, NY 10028
212-744-6521
http://www.eliwilner.com
period frames
info(at)eliwilner(dot)com
# # #