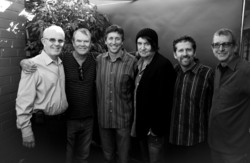 "On his final studio record, his voice, guitar playing and songs are amazing as ever and remind us why he is such a giant musical icon."
Los Angeles, CA (PRWEB) February 28, 2011
Surfdog is proud to announce the signing of the legendary recording artist and entertainer Glen Campbell to a strategic partnership. This will include Glen's final studio recording, "Ghost On The Canvas," as well as an unplugged-style Greatest Hits release, merchandising pact, and the Glen Campbell Goodbye Tour.
"We are excited to be working with Glen, who is one of the true American treasures," says Dave Kaplan President of Surfdog. "On his final studio record, his voice, guitar playing and songs are amazing as ever and remind us why he is such a giant musical icon."
Glen has won Grammys in both the Pop and Country categories and placed 27 tunes in the Country charts' Top 10. His timeless variety show "The Glen Campbell Goodtime Hour" reached over 50 million viewers per week and featured top musical guests such as Ray Charles, Johnny Cash, Willie Nelson, Linda Ronstadt, Liza Minnelli, Cher, Judy Collins and Joan Baez among many others.
A member of the Country Music Hall of Fame, Glen's career has spanned over fifty years.
Produced by Julian Raymond (The Wallflowers, Cheap Trick, Roseanne Cash), the stunning new album "Ghost On The Canvas" will be released this summer and features collaborations with Paul Westerberg, Jakob Dylan, Chris Isaak, Guided by Voices' Bob Pollard, surf-guitar legend Dick Dale, Daddy Warhols and Billy Corgan, among others.
"Working with Glen first on 'Meet Glen Campbell' and now on 'Ghost On The Canvas' is the highlight of my musical career." says Raymond. "Glen's performance on 'Ghost On The Canvas' is amazing and some of the best recording he has ever done."
"One of the great things about this project was working with Julian Raymond again." Glen states. "Julian is the one who came up with the concept and hand picked each song. Like our first album together, it was Julian's vision that inspired me to get back in the studio and reinterpret this great music into my own style."
"I am delighted to be working with Surfdog."
About Surfdog:
Surfdog Records is an independent record label founded in 1993 by Dave Kaplan. Located in Encinitas, CA, Surfdog is one of five cornerstones of a broad-based entertainment group that also includes: Dave Kaplan Management, Surfdog Music Publishing & Licensing, Surfdog Entertainment Marketing (SDE) and Surfdog's Java Hut. The label's passion for music includes an eclectic array of genres. It has released over 100 albums by artists such as Brian Setzer, Dave Stewart, Stray Cats, Butthole Surfers, Slightly Stoopid, Richard Cheese, Dan Hicks and the Hot Licks, Gary Hoey, Wylde Bunch, and many more. They have released several soundtrack albums, including "The Endless Summer II" and "Step Into Liquid." Surfdog artist's music has been prominently featured in numerous top-line motion pictures, commercials and television shows.
LINKS:
http://surfdog.com
http://glencampbellshow.com
# # #