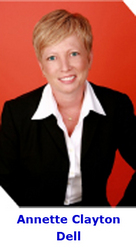 Dell has successfully transformed its supply chain to meet the needs of its business model and dynamic market requirements. Annette Clayton tells this story for the first time.
Springboro, OH (PRWEB) February 28, 2011
Supply Chain Digest, the industry's top source for supply chain news, opinion and insight, announced today a major broadcast event on its Supply Chain Television Channel, in which Dell executive Annette Clayton will discuss how Dell has transformed its supply chain to meet new market requirements.
The broadcast, scheduled for March 16 at 11:30 eastern time, will come from Dell headquarters near Austin, TX, and also feature Dr. David Simchi-Levi of MIT, who has collaborated with Dell on its supply chain strategy. The broadcast, expected to last about 30 minutes, will end with a live QA, and be moderated by SCDigest Editor Dan Gilmore.
To learn more and to register, go to: http://www.supplychainvideocasts.com/videocasts/dell_videocast.php. Even if a viewer is unable to make the live broadcast date or time, by registering now individuals will ensure they receive a link to the on-demand version of the program via email shortly after the original broadcast concludes.
Annette Clayton is Vice President of Global Supply Chain & Operations for Dell. In this role she is responsible for architecting and implementing the next evolution of Dell's global supply chain and fulfillment model aimed at providing the lowest cost and best value of products for customers.
Dr. Simchi-Levi is recognized as one of the world's foremost authorities on supply chain strategy and network design and author of the new book Operations Rules: Delivering Customer Value through Flexible Operations.
The PC market has changed significantly in the last few years. This includes a shift from desktops to notebooks, reduction in the importance of customized products in some market areas, globalization and the increase in the complexity and uncertainty in the market and the emergence of the retail market as a growing market for PC manufacturers.
In this Videocast, Clayton and Simchi-Levi will discuss how Dell has re-optimized its supply chain to address these challenges and drive market success, in part by segmenting its supply chain to meet the needs of Dell and its customers more precisely.
Said SCDigest's Dan Gilmore: "This is a major supply chain event, and will certainly be the biggest broadcast in the history of the Supply Chain Television Channel. The new Dell supply chain story - it is an event most supply chain professionals will want to attend, as well as those with an interest in Dell's operational performance."
About Supply Chain Digest
SCDigest is the supply chain and logistics' industry's leading source of news, information, insight, opinion and solutions. A constant innovator in the industry, SCDigest leads the market in the breadth and scope of its coverage.
Our video arm, The Supply Chain Television Channel, is the industry's top source of video content, including an outstanding line-up of Videocasts.
Join our community and subscribe to our free newsletters at http://www.scdigest.com.
# # #