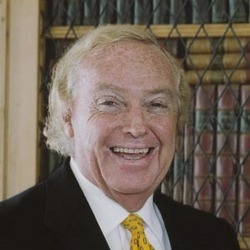 Practically Radical: Not-So-Crazy Ways to Transform Your Company, Shake Up Your Industry, and Challenge Yourself
Wayzata, MN (PRWEB) February 28, 2011
The highly successful management strategies of Bob MacDonald, former CEO of Allianz Life of North America, have been cited in a new business bestseller written by William Taylor, former co-founder of "Fast Company" the magazine dedicated to cutting-edge entrepreneurs and their unique management methods.
"Practically Radical: Not-So-Crazy Ways to Transform Your Company, Shake Up Your Industry, and Challenge Yourself," looks at 25 companies to guide business leaders in launching fresh initiatives and rethinking the logic of leadership.
Among companies the book cited was Bob MacDonald's LifeUSA. MacDonald rose from a door-to-door insurance salesman to become president of ITT Life Insurance Company. In the late 1980s he founded LifeUSA and in 1999 he sold the company to Allianz SE for half a billion dollars before retiring in 2002 as chairman and CEO of Allianz Life of North America.
"Robert MacDonald is one of the most offbeat and opinionated insurance-industry executives I've met," writes Taylor, who goes on to expand on MacDonald's innovative style of new business development, including 'reminiscing about the future' and avoiding bureaucratic complacency.
"The art of starting something new is a matter of 'reminiscing about the future,' conjuring up a set of ideas and practices that are so extreme that established companies can't begin to make sense of them, let alone respond to them," the book quotes MacDonald, who explained that reminiscing means painting a vivid picture of what your organization can become if it delivers on its change-the-game agenda.
That was the spirit behind LifeUSA, according to Taylor, MacDonald's memorable contribution to an industry whose record of innovation is pretty forgettable. "If we had listened to the experts," MacDonald said in the book, "we would have limited our goals and focused on the states around Minnesota, where we were based. But because we reminisced about the future, we started out as a national company competing against the giants of the field. We painted a picture of the future we wanted to create."
Taylor book continues: "That picture became a compelling reality. LifeUSA took shape at a time when the insurance business was synonymous with poor service, slow decision-making, and bureaucratic complacency. (Some things never change.) MacDonald's response? He vowed that the company would make commission payments to agents within 24 hours, issue policies to customers within 48 hours, and respond to questions within 48 minutes--unheard-of promises at the time. He paid independent agents in part with stock options (again, an unheard-of practice) and shared both ownership and detailed information about the business with all rank-and-file employees.
"'How we did business was as important as what we sold,'" MacDonald told me. "'We had to do something completely different. The big companies simply couldn't treat people the way we did, either because the bureaucracy wouldn't allow it, or because they had no concept of how to do it.'"
Thanks to its one-of-a-kind ideas and practices, Practically Radical writes, LifeUSA started fast, got big, and went public. In just a decade, the company signed up 85,000 agents and attracted $6 billion worth of assets--off-the-charts performance that got the attention of Allianz, the German insurance giant, which paid a huge price to acquire MacDonald's outfit, and then put him and his unorthodox colleagues in charge of its life-insurance business in North America.
According to Practically Radical, most thinking about strategy, competition, and innovation emphasizes the intricacies of business models: revenues, costs, niches, leverage. But mental models are what separate organizations that break from the pack from those that are stuck in the middle of the road. That's why startups (such as MacDonald's LifeUSA) often come so far so fast, and have had such an enormous impact on the economy--even when they go head-to-head with giant rivals that can draw on more money, power, and traditional clout. They are successful precisely because they don't look, talk, behave, or compete like other companies in their fields. They are outliers, extremists, game changers.
MacDonald has written extensively about reminiscing about the future and other pragmatic, actionable strategies in his own popular books, "Beat the System" and "Cheat To Win: The Honest Way to Break All the Dishonest Rules in Business." He also writes regularly in his widely read blog, BobMacOnBusiness.com
Bob MacDonald was formerly CEO of ITT Life, wholly owned by The Hartford. He founded LifeUSA, which he sold to Allianz SE and became CEO of Allianz Life of North America. Since 2002 MacDonald has headed CTW Consulting, LLC, a vehicle for offering his experience and unique approach to management and corporate culture development.
# # #