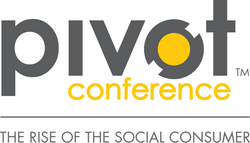 The research conducted has revealed that more than three-fourths of brands see the Social Consumer as a top marketing target
San Francisco, CA (PRWEB) February 28, 2011
The Pivot Conference today released findings from its survey of 700 plus attendees from its inaugural conference in October 2010. The research, mainly conducted to reveal 2011 opportunities and challenges, provided valuable insights into the need for brands to allocate time and resources to target the evolving Social Consumer.
Presented by Editorial Director and Conference Producer Brian Solis, the research revealed the desire for brands and their agencies to execute effective social media programs targeted at the Social Consumer.
"The research conducted has revealed that more than three-fourths of brands see the Social Consumer as a top marketing target," according to Solis. "With Pivot being focused on the rise of the Social Consumer, we want to be able to help these brands bridge the gap between themselves and the Social Consumer."
Report Highlights
Despite a large number of brands outsourcing many marketing and advertising functions to agencies, more than half of brands reported that they're running social media marketing in house. They see advertising and marketing in the early stages of capitalizing on social media, and they are ready to make the Pivot with their brands to capitalize on this marketing opportunity.
Over the course of 2011, brands plan to focus time and revenue on social media, with marketers stating they plan to increase usage by 75 percent. In addition, marketers plan to focus on mobile applications, and streaming applications such as Twitter and Yammer, which center around the conversations the Social Consumer is constantly engaged in.
To target the Social Consumer, companies must engage in effective social media programs. With the evolving Social Consumer using technology, social networks and new media applications to make decisions, brands are ready to adapt to these new platforms to target their attention. Pivot is focused on providing brand managers, executives, creative teams, and agencies with the knowledge needed to help bridge the gap between brands and the emerging market of the Social Consumer.
"Last year attendees had an annual spending budget of $16.8 million and spent 24 percent on social media," according to Mike Edelhart, Chief Revenue Officer for The Tomorrow Project, which owns Pivot. "For 2011, this means that 500 conference attendees will have the spending power of over $2 billion, focused on just social media alone. Would you want to miss out on that opportunity?"
Who Is The Pivot Audience?
The Pivot Audience is largely focused on marketing and advertising executives with decision-making power. Over 75 percent of the audience was comprised of in-house brand marketers, executives, and their agency counterparts. Over two-thirds of the Pivot audience held executive, VP or director titles.
To view a copy of the report, please click here.
Registration for the 2011 Pivot Conference
Registration for the 2011 Pivot Conference is now open. You can register for the conference by clicking here or visiting http://www.pivotcon.com. The conference is limited to 500 attendees, so be sure to register early and secure your spot. "Innovator" pricing of $995 per attendee ends March 31, 2011. Don't miss out on this opportunity to make the Pivot for your brand.
About Brian Solis
Brian Solis, @briansolis, is the author of Engage, the complete guide for businesses to build and measure success in the new web. He is globally recognized as one of most prominent thought leaders and published authors in new media. A digital analyst, business strategist, and futurist, Solis has influenced the effects of emerging media on the convergence of marketing, culture, and business. He has led interactive and social programs for Fortune 500 companies, notable celebrities, and Web 2.0 startups. BrianSolis.com is among the world's leading business and marketing online resources.
About The Pivot Conference
The Pivot Conference is a new kind of marketing conference singularly focused on helping brand marketers and their agencies bridge the gap between themselves and the Social Consumer. At Pivot, brand marketers can gain essential confidence in their power to inhabit the culture, conventions, and conversations of today's Social Consumers. Major sponsors of Pivot 2010 include Yahoo!, Say Media, Glam Media, Go800, Looppa, BzzAgent.
About The Tomorrow Project
The Tomorrow Project, founded in 2008 by William Lohse, is devoted to conferences which serve customers and markets, and their needs for tomorrow.
SOURCE Pivot Conference
Press Contact
Nina Tekwani
press(at)pivotcon(dot)com
415-420-4848
# # #