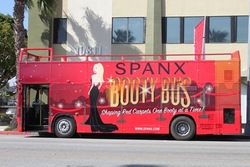 "SPANX are my best friend!" -Kim Kardashian
Los Angeles, CA (PRWEB) February 28, 2011
The #1 international shape wear brand for men and women, Spanx, Inc., took over The Grove in the heart of Los Angeles on Sunday. Thousands of people watched the jumbo screen as celebrities took on the fashionable red carpet during the Oscars. The 32 foot double decker bus, deemed the "Spanx Booty Bus" was parked in the middle of The Grove, where people could not only shop, listen to our DJ-Yo-C spin great music on top of the bus, but also get a $25 dollar gift certificate to spanx.com. Guests created flipbooks by the Spanx Booty Bus and viewed the current and new lines from Spanx.
Guests were shown Spanx Swimwear, Spanx for Men, the new strapless bra, Bra Cha Cha and Slim Cognito body shapers just to name a few. Audiences also had the opportunity to listen to our celebrity stylist panel commentate on the celebrity fashion during their walk down the red carpet. Panelists included A-list celebrity stylist Vanessa Geldbach, BBC correspondent Bruce Reynolds, Style Expert as seen on E!, Lindsey Albanese, POSHGLAM blogger Imelda Vergara and hosted by actress/model Samantha Gudstat.
During the Oscar week, the Spanx Booty Bus was used as a mobile style lounge where celebrities and A-list stylists (Jessica Paster and Brad Goreski) stopped in to check out all the new products from Spanx!
Spanx founder, Sara Blakely, said, "We were so excited to take Spanx on the road to our favorite stylists and celebrities this year and, we're happy to report there were no spare tires found on this Booty Bus!"
Please see rundown of week:
On Monday-Thursday (Feb 21st - 25th), the bus was available for features, interviews or segments that took place on the bus, the bus also traveled around to different show sets to gift wardrobe departments for hit shows like 90210, where Anna Lynne McCord picked up a Spanx bathing suit.
Friday and Saturday (Feb 25th & 26th) from 10am-6pm the bus was parked at the famous Beverly Hilton Hotel where A-List stylists and celebrity clients came to pick up Spanx to wear on their big day! We had everyone from Rachel Zoe, Kelly Rutherford, Karina Smirnoff, Laila Ali, Nancy O'Dell, Taylor Armstrong, Amber Landcaster and many others who attended. We also had male celebs, Brad Goreski, Joey Fatone and Antonio Sabato Jr, who grabbed a favorite Spanx for Men product, undershirt and/or underwear.
Celebrity Spanx fans who attended the Oscars and/or Oscar Events include: Annette Benning, Emily Blunt, Natalie Portman, Mila Kunis, Jessica Alba, Serena Williams, Rachel Zoe, Karina Smirnoff, Christina Milian, Laila Ali, Nancy O'Dell, just to name a few.
Ten years ago, Spanx Founder Sara Blakely began her mission to make the world a better place, one butt at a time. A frustrated (yet fashionable) consumer-turned-entrepreneur, Sara reinvented shapewear with innovative designs and smart features and won the hearts of fashion-loving women, from Oprah Winfrey to Gwyneth Paltrow. Obsessed with creating comfortable garments that minimize figure flaws, Spanx has created more than 200 problem-solving products and has entered into new categories like SPANX for Men, Slimming Swimwear, Bras, and Slimming Apparel.
SPANX was chosen as LUCKY Magazine's #1 obsession in their 'Top 10 Biggest
Obsessions Ever' on the Style Network - 12/18/2010
"I love SPANX, I love SPANX. I wear SPANX every single day. I've given up panties. I wear
SPANX!" – "SPANX revolutionized our lives." Oprah Winfrey
Tina Fey said, "SPANX. It's my dream come true." On an episode of 30 Rock, this long-time
"Bra-llelujah has changed my life... Hallelujah!" - Debra Messing
"They're not just to hold you in, they smooth you out." Everybody wears Spanx…everybody WEARS Spanx….everyone does" - Kelly Osbourne
Miley Cyrus told US Weekly at the 2009 Grammy Awards that "SPANX are a gift from God!"
While promoting her show Parks and Recreation, Amy Poehler told an NPR host that her post-baby body was a result of "a lot of SPANX going on!"
When asked by People Stylewatch what her red carpet secrets were, she said, "a stylist and Spanx!" – Carrie Underwood
Kim Kardashian - "SPANX are my best friend!"
"I wore SPANX under my Fantastic Four costume. I love them! SPANX are the only thing that smoothes out all of my lumps and bumps."- Jessica Alba
Talking about her host's amazing post-baby body on Access Hollywood, this classic beauty said, "She's got better SPANX than I do." – Julia Roberts
"There are these great things called SPANX, and they just squeeze you in. It's terrific! That's how all the Hollywood girls do it!"- Gwyneth Paltrow
Spanx Booty Bus Daily Videos recaps in HD (great for streaming on your site): http://www.youtube.com/user/SpanxInc
Please contact DesireeOntiveros on desiree(at)cldstylehouse(dot)com for hi-res images and downloads links to the Spanx Booty Bus daily videos.
###