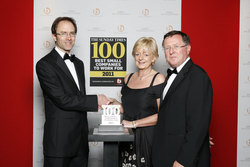 (PRWeb UK) February 28, 2011
The 41st overall place in the 100 Best Small Companies category as well as the highest 3 star accreditation reinforces Hampshire-based eDigitalResearch as one of the UK's top employers in the market research sector and comes after yet another record breaking year for the company. An increasing number of clients in the retail, finance, media, travel, utilities and other sectors are benefiting from a market-leading range of research and insight solutions including surveys, panels, communities and HR appraisal tools.
The company ranked seventh for creating a stimulating workplace and very highly for individual personal growth. Employees also valued the work ethic, most saying that colleagues go out of their way to be helpful to one another, generating a real sense of 'family'.
A delighted Chris Russell, Founding Director of eDigitalResearch comments, "This is a fantastic achievement. We wouldn't have been able to accomplish all the ground breaking accomplishments that we have in the past several months without the dedication and commitment of our staff. We always try and reward effort and the fact that we've now been rewarded by the team is just incredible, so a big thank you to everyone."
Russell continues "The great thing about this accreditation is the fact that it's completely independent and voted for by the staff. We're extremely proud to have been placed in the top half of the table and will work hard throughout 2011 to improve even further for next year. It also helps us to continue to attract top quality talent across the business."
Founded in 1999 by Russell and fellow Founding Director Michelle Fuller, eDigitalResearch has grown to become one of the UK's leading market research specialists with a 60+ strong work force providing clients with the insight to develop their online and multichannel offerings.
This is the first time the company has entered the Best Small Companies to Work For accreditation process, which this year saw entries from over 500 small businesses. It has also held Investors in People accreditation since 2007.
For further information and pictures, contact Lisa Bonczyk +44 (0)1489 772 920 or email lisa.bonczyk(at)edigitalresearch(dot)com
ENDS
About eDigitalResearch
eDigitalResearch is a leading provider of digital market research, enabling clients to make critical business decisions with the benefit of comprehensive consumer insight and informed direction. eDigitalResearch possesses a unique combination of research expertise, marketing background, web technology and knowledge of the cross-channel consumer. As well as providing invaluable research data, the modules of its fully integrated research system - ratings, surveys, panels, communities and forums - can combine to provide holistic analytics and essential market-leading insight including comprehensive benchmarking. This gives clients the power, confidence and backup to make crucial decisions on key aspects of their business including product range, marketing, customer service, supply chain, even basic positioning. For further information visit http://www.edigitalresearch.com
###