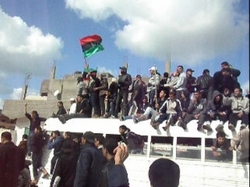 These images give an unparalleled impression of the situation in the streets of Tripoli, in the heart of the revolution.
(PRWEB) February 28, 2011
VJ Movement is an independent international publication platform for visual journalists. It is in contact with a journalist in Lybia, who has received 24 minutes worth of raw footage from a protester. The images are available for purchase.
VJ Movement embedded a low resolution preview of the material (link). This is the three minute selection that is on offer. The one minute version includes the first minute of this clip. There is a total of 24 minutes available. Please find the corresponding prices below. Revenues will be shared with the source in Libya.
1 minute
€ 750 / $ 1042,50
3 minutes
€ 1500 / $ 2085
24 minutes
€ 3000 / $ 4170
We can deliver the material without the VJ Movement logo after payment. The 24 minute version includes the original files.
###