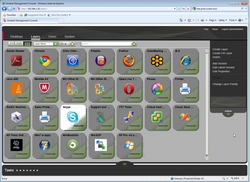 Unidesk is an elegantly simple to use solution that allows us to tackle a whole host of complex tasks... Kipp Bertke, Ohio DODD
Marlborough, Mass. (PRWEB) February 28, 2011
Unidesk, provider of the leading management platform for desktop virtualization, today announced that its virtual desktop management software has been selected as the core technology for the provisioning and management of 1,500 hosted virtual desktops delivered by VMware View™ at the Ohio Department of Developmental Disabilities (DODD). The combination of Unidesk® and VMware View will help DODD modernize its desktop management and delivery architecture to create custom desktops, maintain user persona, deploy the wide range of specialty applications required by the state agency, simplify operating system patching, and minimize storage costs.
The new Virtual Desktop Infrastructure (VDI) project is part of the DODD's two-year IT private cloud/virtualization initiative, aimed at creating a more agile infrastructure system for the support and services provided to over 80,000 people with developmental disabilities and their families serviced by the agency statewide. In addition to virtualizing 98% of its desktops, the project included primary and backup data centers and hundreds of VMware vSphere® virtual machines representing more than 98% of the agency's servers.
"With desktop virtualization, we knew we wanted to offer a solution that did not compromise the user experience or complicate management," said Kipp Bertke, DODD Information Technology Manager. "Unidesk is an elegantly simple to use solution that allows us to tackle a whole host of complex tasks, from simplifying the delivery of our operating system and high end applications to permitting end user changes or instant desktop rollbacks -- all while giving our users a desktop experience through VMware View™ that's better than their traditional PCs."
Unidesk works with leading VDI connection brokers to provide simplified OS and application management and delivery, together with a custom end user experience in a reduced VDI storage footprint. DODD has selected VMware View with Unidesk to access the desktops hosted on VMware vSphere-based virtual infrastructure.
"VMware is committed to helping state agencies like the DODD more effectively and efficiently serve their communities by reducing the cost and complexity traditionally associated with managing IT," said Vittorio Viarengo, Vice President, End User Computing Products, VMware. "The combined capabilities of Unidesk and VMware View enable agencies like the DODD to enhance the user experience with highly customizable virtual desktops that maintain user persona and to realize greater value from these deployments by streamlining management and associated storage and administrative costs."
A live webinar, "98% Virtualized: Ohio DODD's innovative approach to VDI success" will be available free on Tues., Mar. 22 at 2:00 p.m. ET, featuring Ohio DODD's Information Technology Manager Kipp Bertke, along with Matthew Honigford, Technical Account Manager at VMware and Ron Oglesby, Unidesk Chief Solution Architect. To register: https://www1.gotomeeting.com/register/179011632
Unidesk's innovative desktop layering technology enables IT to update hundreds of desktops from one operating system image and deliver any application needed by users. The DODD, for example, relies on applications ranging from speech recognition and medical software to security, translation programs and more. "Unidesk captures these applications in 'layers,' so we can assign them to as many users as needed, just as we do with the operating system," Bertke said.
Some applications can be problematic to virtualize because they use scripts or system services that start too early in the desktop boot process for application virtualization tools to package them. Because Unidesk lives between the hypervisor and Microsoft Windows, starts at the millisecond that Windows boots, and uses storage virtualization in its layering approach, it doesn't have these limitations.
"We've already tested 80 percent of these previously hard to virtualize applications with Unidesk and we can package, deploy and manage them from the Unidesk console just like any other application," Bertke said.
Bertke also cites the importance of persistent personalization as critical to the success of the VDI project. "We want the virtual desktop to be seamless for our users, so they can see and use everything they had before virtualization. Yet, while users have the flexibility they expect, we want to retain control over desktops so we can address problems before or as they arise."
Unidesk enables DODD administrators to uninstall applications, even user-installed applications, and provide instant desktop repair without loss of user data simply by rolling back the personalization layers for a user or group of users.
By using Unidesk to deploy, patch and upgrade common images across the many customized virtual desktops in the agency, the DODD will be able to minimize administrative tasks for its lean IT staff and economize on storage as well. "By provisioning and managing desktops on demand from single images, we eliminate duplication and reduce our storage footprint," said Bertke. "Unidesk is absolutely critical to helping us accomplish with our desktops the high level of virtualization success we've achieved with our servers."
"We're thrilled that more customers like Ohio DODD are recognizing the value of our unique approach to managing virtual desktops," said Tom Rose, Unidesk Chief Marketing Officer. "Our layering technology blends the operating system, applications, and user persona into a consistent image for a desktop management experience that is simple for IT, and an end user experience that is relished by end users. We look forward to working with VMware to help DODD take full advantage of desktop virtualization for all of its many desktop use cases."
About Unidesk
Unidesk (http://www.unidesk.com) provides the virtual desktop management software platform that organizations of all sizes require to successfully centralize desktops on data center servers. The company's patent-pending desktop layering technology works with Virtual Desktop Infrastructure (VDI) access solutions from VMware, Citrix, Microsoft, and other vendors to sustain personalization for workers who need a customizable user experience, while empowering IT with efficient management of operating system and application updates. Unidesk customers benefit from increased worker productivity and reduced IT operations and data center storage costs. Unidesk is a privately-held company with headquarters in Marlborough, Mass, USA.
VMware, VMware View, and VMware vSphere are registered trademarks and/or trademarks of VMware, Inc. in the United States and/or other jurisdictions. Unidesk® is a registered trademark of Unidesk Corporation.
###