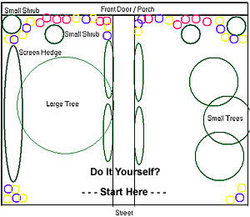 it just seems smart to move the company in the do it yourself direction - says Steve Boulden, owner of S&S Design and The Landscape Design Site
Carlsbad, NM (PRWEB) April 2, 2011
By changing their focus from landscaping construction to consulting and a free informational website, S&S Designed Landscaping plans to offer much needed free advice as well as consulting services to the growing do it yourself community. As the green industry feels the effect of the economy from more people doing their own landscaping, "it just seems smart to move the company in the do it yourself direction", says Steve Boulden, owner of S&S Design and The Landscape Design Site.
While a small portion of the consulting will be on a personal one on one basis, the majority of the services will be provided through their website in the form of free information, free design plans, garden landscaping ideas, and online consulting. If a visitor or client finds an idea or project on the site, they can contact a professional designer on the site to get more details and advice on the specific idea.
In the few years of The Landscape Design Site's existence, it has been a simple non-professionally designed site showcasing the designs of S&S as well as providing access to some of the most talented landscape and garden designers in the world. Along with that and their project at video landscaping ideas, they have also provided one of the largest collections of landscaping pictures online.
Since its beginning in year 2000, S&S Designed Landscaping has created quite a portfolio of design ideas, completed projects, and design plans. Still, with the demand for ideas form home owners and do it yourselfers, it is a good move that they have included access to designs and pictures from other designers. For example, the front yard landscaping ideas directory, which is one of the most popular destinations on the site, is for the most part, pictures of yards and landscaping projects created by other designers and professionals. It's a sure sign that diversity is necessary to gain the repeat visits from ideas searchers.
As for the local landscaping, sprinkler systems, and lawn maintenance services that S&S Design has offered in the past. The offline company will still be working with other local designers to create landscaping plans and ideas as well as consulting on many other projects. As owner Steve Boulden says, "we still have a strong presence in the local market. We just don't get much of the credit or have our sign in the yards anymore."
As with all businesses, landscaping and the green industry included, changing with the times is necessary for survival. And with both the internet and the do it yourself mindset becoming more of a pressing reality, it seems not just a smart move but a necessary one for S&S Design to move in that direction.
###