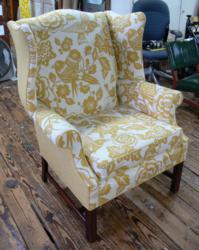 A great upholsterer really delivers the equivalent of a new sofa or chair when it's all done. A nip here, a tuck there and voila, you've got yourself a new piece of furniture!
(Vocus/PRWEB) February 10, 2011
Reupholstering a favorite sofa or chair in a great fabric can be even better than buying a new piece of furniture. The quality is equal or better, say the experts at Calico Corners. And keeping old furniture out of landfills is good for the environment.
Want to take that tired, old chair or sofa from drab to fab in just a few weeks? "Consider reupholstery," advises Darlene Kearney, director of education for the Calico Corners – Calico Home stores across the country. "Not only will you get a great looking piece of furniture out of the deal, but you'll also help preserve the environment," she adds.
That's because reupholstery is one of the earliest forms of recycling, notes Kearney. "People have been updating spaces through restoring antiques or reupholstering furniture long before green living became part of our collective consciousness."
Is it worth recovering?
Though keeping chairs and sofas out of landfills is a great goal, it's important to know when it's worth the cost. In fact, the investment can come close to the cost of a brand new piece of furniture, so make sure your decorating dollars are well placed, counsels Kearney. How do you know if reupholstery is an option for you? Consider these three questions she poses:
1. "Do you love the shape and sit?" In other words: does it have good bones? If so, then yes, consider reupholstery.
2. "Is your piece great quality or a valuable antique?" Furniture pieces like those made by Calico Corners and other top manufacturers are examples of pieces worth reupholstering. They have a hardwood frame and most have a foundation of eight-way hand-tied springs. Not sure if the frame is sturdy? Give it a lift. If it's heavy, there's a greater likelihood of a quality hardwood frame. If it's lightweight, it's probably made from soft wood or particleboard.
3. "Does your piece have sentimental value?" Was it inherited from a grandmother, or is it the first piece of furniture bought when newly married? "You can't put a price tag on emotional attachments," notes Kearney. "If you have a piece that you love, then take the reupholstery plunge—it will be worth it."
In short, if that tired, old chair is well made and well loved, or has sentimental value, save it and reupholster it. If it's not worth reupholstering, consider a slipcover, donate the piece or give it to a recycling program.
The Reupholstery Process
Where to begin if reupholstery is the answer?
At Calico Corners – Calico Home stores, there will be lots of questions from the design associate or in-home consultant, explains Kearney. "They'll want to know about the style of room, the way you live (are feet allowed on the sofa?), and whether young children, dogs or cats are an issue," says Kearney. "Then it's time to focus on the selection to find an upholstery fabric you love that also meets your functional needs."
"There are thousands of fabrics from which to choose," she enthuses. "We can satisfy the classic traditionalist to the hip bohemian. If you want an elegant look, Calico has damasks, brocades, velvets and gorgeous jacquards. Do you want cool and casual? Look at denims, linens, cotton twills and matelassés." Toddlers with sippy-cups can be a challenge, adds Kearney. "Calico has high-performance fabrics that can stand up to spills and peanut butter and clean up easily with soap and water."
For those who have a hard time envisioning how reupholstery will change the look of their old furniture, Calico loans its customers large fabric samples and mini-bolts that can be taken home to get a sense of how the piece will look when it's recovered.
"Reupholstering is more than just a fabric facelift," notes Kearney. "Most of what determines the quality of a piece of furniture is under the hood," she explains. A thorough job can involve replacing the padding and cushion materials, re-tying springs, re-gluing joints, touching up nicks and performing other repair work that isn't readily visible. Upholsterers can also remove channeling or tufting. They can lengthen the skirt or plump up the arms and cushions to make the piece more stylish and au courant.
"A great upholsterer really delivers the equivalent of a new sofa or chair when it's all done," states Kearney. "A nip here, a tuck there and voila, you've got yourself a new piece of furniture!"
Calico Corners – Calico Home stores provide expert decorating advice and free in-home design consultation in more than 90 stores across the country. Consumers will find thousands of designer fabrics for the home at value prices; custom window treatments, blinds and shades; custom upholstered furniture, slipcovers, bedding and more. Thousands of fabrics are available online. For more information or to find the nearest store, visit http://www.CalicoCorners.com or call (800) 213-6366.
###