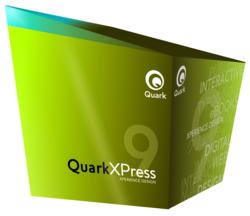 Denver, CO (Vocus/PRWEB) February 23, 2011
Today Quark announced QuarkXPress® 9, the next major release of the graphic design and page layout software that helps creative and corporate professionals create design-rich layouts for print, the Web, and interactive Flash® (SWF) media. QuarkXPress 9 gives designers the power to design for and publish to digital devices, including the iPad, in a variety of formats while also offering even more control over the execution of their creative visions. [See today's corresponding press release about QuarkXPress 9 for further information or visit http://www.quark.com/Products/QuarkXPress.]
QuarkXPress 9 will be available for purchase directly from Quark (http://shop.quark.com/am/) and through Quark authorized resellers (http://goo.gl/wRwZX) in April 2011. In the interim, between February 23, 2011 and April 30, 2011, customers who purchase or upgrade to QuarkXPress 8 will be eligible to upgrade to QuarkXPress 9 for free.* Quark is also extending this offer to anyone who purchased or upgraded to QuarkXPress 8 since January 1, 2011.
The offer applies to all new, full-price purchases of QuarkXPress 8 and to upgrades to QuarkXPress 8 including commercial, education, and not-for-profit licenses. To redeem the offer customers will need valid serial numbers and validation codes and will need to complete the online redemption form. For details, terms and conditions, and to access the redemption form, please visit http://www.quark.com/buy8get9/.
*All customers will receive their free upgrade to QuarkXPress 9 as an electronic download. Customers will have the option to purchase a retail box of QuarkXPress 9 from Quark authorized resellers but will be responsible for a shipping and handling fee of $19 US plus tax (€ 19/£19 including tax).
To learn more about QuarkXPress 9, please visit: http://www.quark.com/Products/QuarkXPress.
About Quark
Quark Inc. (http://www.quark.com) is a leading provider of publishing software for professional designers, small and mid-sized businesses, and large organizations in more than 160 countries. Two decades ago, Quark's flagship product - QuarkXPress® - changed the course of traditional publishing. For more than 25 years, Quark has built on its knowledge and experience in design and publishing to provide software solutions that support collaborative workflows and automated publishing across multiple channels. Today, Quark is revolutionizing publishing again by setting new standards in XML-based publishing across print, the Web and digital media as well as by helping owners and employees of small and mid-sized businesses promote their products and services easily, professionally, and affordably. Denver-based Quark is privately held.
Quark, QuarkXPress, and the Quark logo are trademarks or registered trademarks of Quark, Inc. and its affiliates in the U.S. and/or other countries. All other marks are the property of their respective owners.
Contact: Sarah Rector, Quark Inc., 303-894-3753, srector(at)quark(dot)com
###