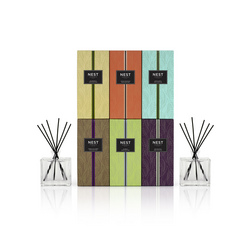 New York, NY (PRWEB) February 23, 2011
NEST Fragrances, the leading luxury home fragrance manufacturer, adds luxurious new forms of sophisticated home fragrances with the introduction of Reed Diffusers and Bar Soaps to its award-winning NEST Fragrances Collection.
Home fragrance expert Laura Slatkin created NEST Fragrances to provide superior fragrance blends that infuse a home with fine fragrance. Now NEST Fragrances introduces additional forms of the venerable scents, offering chic new home fragrance options that join the NEST Fragrances candle collection in enriching any atmosphere. The new NEST Fragrances Reed Diffusers and Bar Soaps provide a new way of infusing one's surroundings with the aroma of fine fragrances. These new introductions are available in the following top six NEST Fragrances' scents:

Bamboo: Flowering bamboo, white florals, sparkling citrus and fresh green accords.
Grapefruit: Pink pomelo grapefruit, watery green nuances, lily of the valley and coriander blossom.
Moroccan Amber: Moroccan amber, sweet patchouli, heliotrope, bergamot and eucalyptus.
Moss & Mint: Garden mint, apple blossom, muguet, oakmoss and vetiver.
Orange Blossom: Orange blossom, orchid, tiare flower, freesia, tangerine, lemon and musk.
Wasabi Pear: Anjou pear, fresh, ozonic watery notes and wasabi.
The elegant new NEST Fragrances Reed Diffusers are carefully crafted with the highest quality fragrance oils and are designed to continuously fill any space with a lush, memorable fragrance. The alcohol-free formulas release fragrance slowly and evenly into the air for approximately 90 days. Available in a 5.9 Fl. Oz. (175 mL) container for $34 (SRP).
The luxurious new NEST Fragrances Bar Soaps are lightly scented, French-milled, and contain shea butter and almond oil to create a rich, creamy lather while cleansing and nourishing the skin. Available in an 8.8 oz. (250 g) bar soap for $16 (SRP).
The new NEST Fragrances Reed Diffusers and Bar Soaps are available for purchase at Bergdorf Goodman, Neiman Marcus and NeimanMarcus.com, select Holt Renfrew stores (Canada), and select specialty stores nationwide.
To obtain product samples or high-resolution images, please contact Tim Rossi via the contact information listed in the upper-right corner.
About NEST Fragrances
Founded and owned by Laura Slatkin, NEST Fragrances (NEST) is a specialized home fragrance company that emerged from its parent company, Slatkin & Co., after it was acquired by Limited Brands, Inc. Laura has a long-standing reputation as a leader in the home fragrance industry and is well-known for her luxurious scented candles, room sprays, diffusers and other essentials for rooms and environments. NEST's client list currently includes more than 50 prestige companies in the fashion, beauty and home fragrance industries – all of whom turned to NEST to develop their own exclusive line of home fragrance products. In 2008, Laura launched her own home fragrance collection, NEST Fragrances, which won the 2009 FiFi Award for Interior Scent Collection of the Year. In 2010, Laura launched her second and third fragrance collections, Sprig Fragrances, and Project Art by NEST Fragrances. NEST draws on decades of experience in the home fragrance industry with a special expertise in designing, developing, producing, distributing and marketing home fragrance collections that capture each client's unique brand image and style. For more information, visit http://www.nestfragrances.com.
NEST can also be found on facebook and Twitter.
# # #