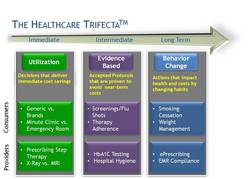 IncentOne's expertise in providing incentive-based healthcare programs will be an important tool for our customers and members to help them achieve their own healthcare goals more effectively
Lyndhurst, NJ (PRWEB) February 17, 2011
IncentOne, a leading provider of technology–driven engagement incentive solutions to the healthcare industry, announced today that it has entered into a multi-year agreement with BCNEPA. Healthcare engagement incentive products on the IncentOne platform will be available primarily to BCNEPA's self-insured clients in 2012.
"IncentOne's expertise in providing incentive-based healthcare programs will be an important tool for our customers and members to help them achieve their own healthcare goals more effectively, while at the same time helping members and employers reduce the overall cost of their health care," said Paul Holdren, BCNEPA's Senior Vice President and Chief Sales and Marketing Officer.
Joe Connelly, IncentOne's Senior Vice President of Market Strategy and Development, added, "We are very pleased to have been selected by BCNEPA to provide a holistic member engagement incentive solution that can enable differentiation in the marketplace by utilizing IncentOne's proprietary Healthcare TrifectaTM methodology to optimize their program designs around outcomes and ROI."
About IncentOne
IncentOne's technology-driven incentive solutions are used by healthcare clients representing more than 75 million individuals to drive health care cost reductions. IncentOne provides connectivity to more than 125 health management, wellness and rewards program providers through its Universal RemoteTM platform, facilitating any activity, any type of incentive, using any medium and any reward. IncentOne has combined its solutions with its industry leading incentive performance data, and expertise in incentive program design and execution, to drive over 10 million health milestones. IncentOne programs target consumers to improve utilization, reduce health risks, increase medication adherence and steer benefit selection; and providers to adopt e-prescribing, EMR technology and improve patient safety. For more information, visit http://www.incentone.com.
About Blue Cross of Northeastern Pennsylvania
Headquartered in Wilkes-Barre, Blue Cross of Northeastern Pennsylvania is an independent licensee of the Blue Cross and Blue Shield Association. BCNEPA offers a comprehensive portfolio of health insurance products and administrative services to more than 550,000 individuals in 13 counties in Northeastern and North Central Pennsylvania. The company's mission is to provide innovative wellness solutions that increase access to high-quality, affordable health care and promote personal accountability.
# # #